5/3/2021 12:28 pm

Exciting news! Stargirl has already gotten the green light for Season 3, months before the second season airs. It's evident that The CW is confident in Stargirl's sucess, and it's a no-brainer. The first season was a fantastic and refreshing showcase of a new generation of superheroes, and we're sure the second season will continue in the same form. And by extension, the third season is sure to be a great way to know that we'll keep getting more of Courtney Whitmore's story with the new JSA. mark Pedowitz, The CW Chairman and CEO, made the announcement a short while ago, also renewing another show, Kung Fu, with the following release:
We are beyond proud to continue to share the stories of Nicky Shen and Courtney Whitmore, two strong, powerful young women at the center of this new generation of hit shows for The CW in KUNG FU and DC'S STARGIRL. While each boasts remarkable talent on both sides of the camera, KUNG FU and DC'S STARGIRL have not only treated fans to some visually stunning action and high-flying heroics, but they also both strike very powerful emotional chords as they delve into the family dynamics and personal relationships at their core, and we are so excited to see what happens next.
We couldn't agree more! What do you think of the announcement? Let us know your thoughts below and in our forum! Don't forget to follow us on Twitter for breaking news!
5/2/2021 8:19 pm

It's great to get to look ahead and see a bit more of what's to come for our heroes on the CW, and episode titles can be a great way to try to decipher what we can expect, and when we can expect it.This time around there's only three shows with more information, considering that Black Lightning will be ending by May 24th, Supergirl will be going on hiatus, and we are gearing up for the Legends tonight, so we're sure we'll be able to expect more soon. So let's begin:
Batwoman:
Batwoman's episodes have been slowly trickling in, and after May 16th's episode, it looks like there will be yet another break until June, where thankfully there will be new episodes all month long. Currently, the characters are all trying to deal with the fallout of Kate's death, while we the viewers are privy to the fact that she's very much alive, and being kept by Black Mask. It looks like at least one of those episodes will be focusing on her return, with Wallis Day playing her, and tonight's her big debut in the role.
Armed Suspect - June 06
Rebirth - June 13
Kane, Kate - June 20
Power - June 27
The Flash:
Flash has been dealing with the Forces, and getting to reason with them as people, and it looks like we'll be diving into some interesting episodes, like the two-parter Family Matters. One interesting title in our view is Good-Bye Vibrations. We wonder if that has to do with Cisco's new Vibe powers, or if it's to do with Barry being able to vibrate his molecules. Whatever it is, we're sure that things on The Flash are about to get a lot more complex, and we still have to figure out who will betray Barry.
Family Matters, Part 2 - May 25
Good-Bye Vibrations - June 01
Masquerade - June 15
Superman & Lois:
The newest superhero and crime-fighting couple will be back on our screens soon enough, and that means new episode titles. Some of them are vague, one of them is very long and indicative of a brief lull between the chaos. And the third one has us worried. Will Lois be taken? It could be Luthor, who as we found out, was married to Lois in his world, and it seems that in this world, he's looking to take her once again, or it could be Morgan Edge, tired of Lois' interference.
Holding The Wrench - June 01
Loyal Subjekts - June 08
O Mother, Where Art Thou? - June 15
A Brief Reminiscence In-Between Cataclysmic Events - June 22
Which episode title intrigues you the most? Let us know your thoughts below and in our forum! Don't forget to follow us on Twitter for breaking news!
5/1/2021 1:31 pm

One of the most arguably anticipated DC shows coming soon is The CW's Naomi, and we now have our first look at this exciting upcoming series!
Kaci Walfall will be portraying Naomi McDuffie, a teenage superhero created by the collaborative minds of Brian Michael Bendis, David F. Walker, and Jamal Campbell. The show will follow young McDuffie's captivating journey from her small northwestern town, to the wild places that the multiverse has to offer. When a supernatural event shakes up her hometown to their core, Naomi sets out to uncover her origins and challenge those who oppose her and her newfound gifts.
Keen comic book fans will also likely recognize that the teaser image is a homage to the Campbell-illustrated cover for Naomi #1, the high-selling comic that introduced us to Naomi and her tales. Outside of the promotional photo, we cannot wait to hear more about this enticing series that'll surely mesmerize many audiences.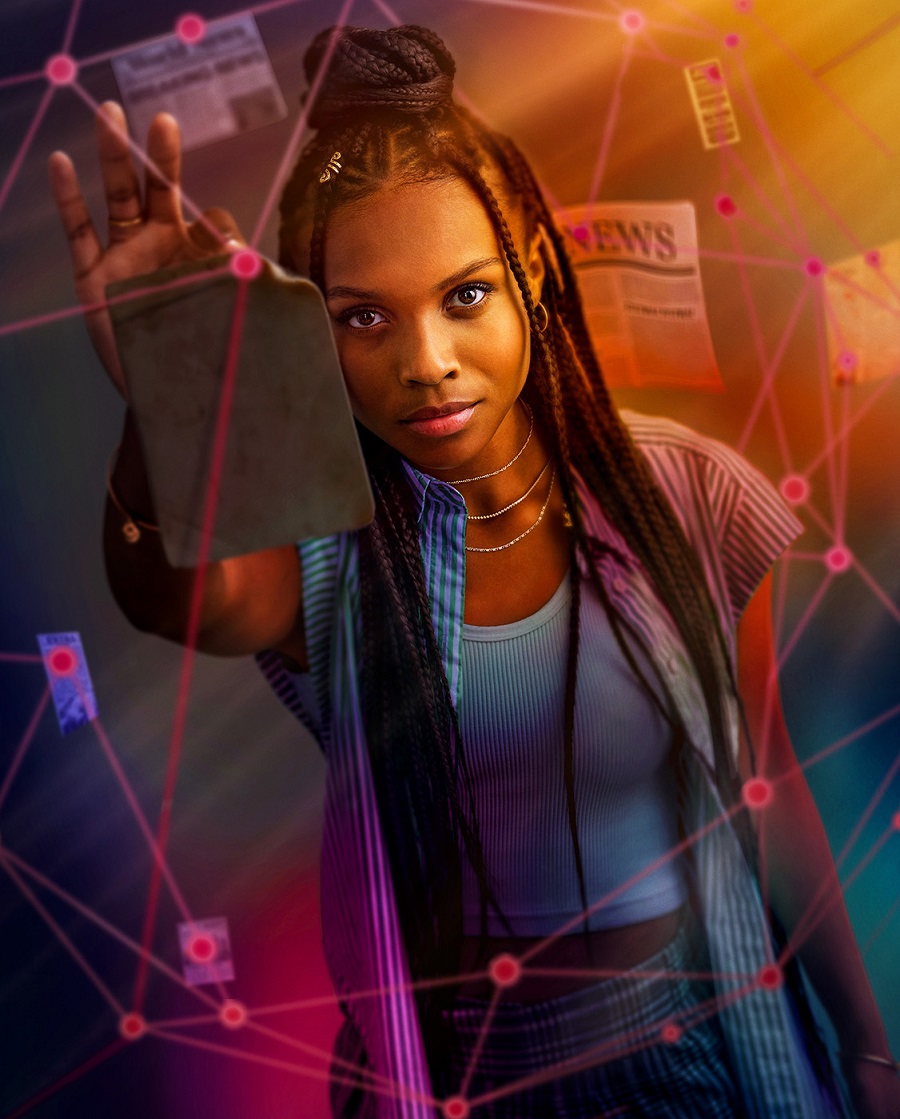 Are you as excited for Naomi as us? What can we expect from this series? Let us know your theories in the comments below and in our forum! Don't forget to follow us on Twitter for breaking news!
5/1/2021 1:06 pm

When The Flash returns in a few days, the team will be handling two issues: Frost's trial, and while that's going on, Barry and the Speed Force trying to get to the bottom of the people behind the other Forces. First up will be Fuerza, who here is just a woman named Alexa, and will be played by Sara Garcia. She doesn't look too thrilled by her conversation with The Flash, nor even with Barry. We have to wonder if they'll try to appeal to her better nature as Cisco and Chester tried to do with Deon. Check out the gallery below:
What do you think of Alexa? Let us know your thoughts below and in our forum! Don't forget to follow us on Twitter for breaking news!
4/30/2021 4:48 pm

Guy Gardner fans, rejoice! According to Deadline, Finn Wittrock will star in HBO Max's upcoming 'Green Lantern' series. Wittrock, known for his roles in American Horror Story and American Crime Story will headline the show as the ever-loveable Green Lantern, Guy Gardner.
The Green Lantern show, written by Greg Berlanti, Marc Guggenheim and Seth Grahame-Smith, will shine a fresh look on the beloved DC property. The series will begin on Earth in 1941 with the very first Green Lantern, secretly gay FBI agent Alan Scott, and 1984, with cocky alpha male Guy Gardner (Wittrock) and half-alien Bree Jarta. Other characters will include a variety of other Lanterns, both new and old. Wittrock's Guy Gardner is described as:
A hulking mass of masculinity, and, as rendered in the comics, an embodiment of 1980s hyper-patriotism. Typical to Guy Gardner, he will also, somehow, still be likeable.
Wittrock joins the Berlanti TV Universe after earning two Emmy nominations for his roles in American Horror Story and American Crime Story. He can also be seen in films such as Unbroken (2014) and The Big Short (2015). Most recently, he will star in films A Mouthful of Air (2021) and Deep Water (2022).
Berlanti, Guggenheim and Grahame-Smith will executive produce Green Lantern with Geoff Johns, Sarah Schechter, David Madden and David Katzenberg. Elizabeth Hunter and Sara Saedi will co-executive produce.
What do you think of this casting? Let us know your thoughts below and in our forum! Don't forget to follow us on Twitter for breaking news!
4/30/2021 4:35 pm

Superman and Lois are returning! After the nearly 2 month break, we're catching up with the Kent family in Smallville, where it seems that Clark will be having some doubts about letting Jordan continue playing football. If you recall, there were some worries that Jordan's powers might give him an unfair advantage, and it'd be dangerous for him if someone were to figure out that he had superpowers. On the other side of the titular duo, Lois will continue her hunt for the truth and figuring out Morgan Edge's plans, and apparently will lead an alliance with someone unlikely. Check out the full synopsis below:
SUPERMAN & LOIS RETURNS TONIGHT WITH NEW EPISODES – Clark (Tyler Hoechlin) reconsiders his decision to let Jordan (Alex Garfin) play football. Meanwhile, Lois' (Elizabeth Tulloch) continued investigation of Morgan Edge (Adam Rayner) requires her to trust an unexpected ally. Emmanuelle Chriqui, Dylan Walsh, Erik Valdez, Inde Navarrette and Wole Parks also star. (#106). The episode was directed by Sudz Sutherland and written by Katie Aldrin. Original airdate 5/18/2021.
Who do you think the unexpected ally is? Let us know your thoughts below and in our forum! Don't forget to follow us on Twitter for breaking news!
4/30/2021 4:34 pm

Lucifer's second half of the season is coming in just a few short weeks, and today, Netflix released the trailer, and seven new images, and they tell a really interesting story. God is trying to make amends for his parenting, and announcing his retirement, which will rev up Michael and Lucifer's rivalry, as they are both vying for the spot. In typical Lucifer fashion, it looks like there will be some very deep introspective moments, mixed in with the usual dose of funny quips and jokes, and we can't wait to see how the new season will unfold. Check out the trailer below:
And here is the updated gallery with the new images:
Are you excited to see how things will unfold? Let us know your thoughts below and in our forum! Don't forget to follow us on Twitter for breaking news!