1/31/2023 7:51 pm

With James Gunn and Peter Safran taking over as co-CEOs for the new DC Studios, changes have been expected, and today, the first phase of the overarching plan was released, named Gods and Monsters. The first ten projects - five movies and five shows - were revealed, encompassing a variety of heroes both known and unknown. The idea is to have a main universe that includes movies, shows, games, and animation, with the actors keeping the role across all mediums, while also allowing for different visions, from horror to comedy. Which isn't to say that anything not connected to this new 'verse has been scrapped. Shows and movies outside of this scope have been labelled as "Elseworlds", so there is still more to come that might not fall within this new world. Gunn also teased that this doesn't cover the entirety of the first phase, so we can expect other things to be announced in the future. Without further ado, let's dive in:
There are five shows that were revealed today, all slated to air on HBO Max:
First up is Creature Commandos – a seven-episode animated show in which Amanda Waller creates a black ops team out of monstrous prisoners. Of the characters confirmed are Weasel, and Rick Flagg Sr. Gunn wrote all the episodes of the first season, and the show is already in production, with a first look below: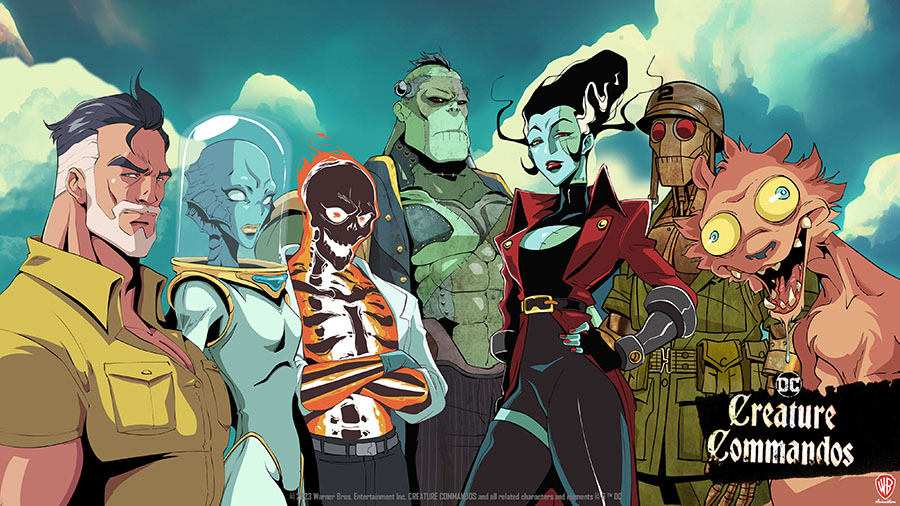 Viola Davis will be making a return for Waller – a series that features Team Peacemaker and will be written by Christal Henry (Watchmen) and Jeremy Carver (Supernatural). With Gunn's involvement now focused on developing the entire world for DC Studios, the second season of Peacemaker has been put on hold, and with Waller serving as a continuation after the first season of the show, which saw Danielle Brooks' Leota Adebayo reveal Task Force X and her mother Waller's involvement to the world.
We've also got a first in Booster Gold – A hero who uses basic technology from the future to pretend to be a superhero in present day. It's meant to be a full foray into comedy, with the titular character, who isn't all that fantastic in the future, to build himself up in the present.
Although the original anthology Green Lantern series was never realized, it's now become Lanterns – this enormous TV event series follows intergalactic cops John Stewart and Hal Jordan as they uncover a dark mystery. This show is meant to be a crucial in telling one of the main stories of this new world being built
And finally, we'll be getting Paradise Lost ­– set in Themyscira, home of the Amazons and birthplace of Wonder Woman, this drama focuses on the genesis and political intrigue of an island of all women. It's meant to shine a light on the darker and lesser-known aspects of the world that Diana will one day live in, with the show tackling the origins of Themyscira.
We also know that the movies will be tackling Batman & Robin - as well as the broader batfamily - not to mention Supergirl, Superman, Swamp Thing, and The Authority, so there's also a window for these characters to also appear in this large interconnected new world.
Which of these projects are you most excited about? Is there anything you'd also like to see become a show? Let us know your thoughts below and in our forum! Don't forget to follow us on Twitter for breaking news!
1/31/2023 1:42 pm

The Flash is gearing up to start its final season next week, and we have more to get us ready: a new gallery and the first two synopses! First up, for the season premiere, titled Wednesday Ever After, we'll be having a Groundhog day-esque episode, where days will be repeating. We'll also be checking in on Barry's idea to make a guide for all the future events to come, which we know from the trailer won't go quite as he expected. We'll also be getting a tease of the new villains arriving in Central City. Check out the full synopsis:
SEASON PREMIERE – Barry (Grant Gustin) creates a map book to guide him and Iris (Candice Patton) throughout their future in order to keep her safe, but the results are not what he expected, and instead, they relive the same day over and over again. Joe (Jesse L. Martin) has a heart-to-heart with Cecile (Danielle Nicolet). A new big bad is introduced to Team Flash and friends and foes, old and new, begin to descend upon Central City. Vanessa Parise directed the episode with story by Eric Wallace and teleplay by Thomas Pound & Sarah Tarkoff (#901). Original airdate 2/8/2023.
And here's the gallery:
And looking ahead to the following week, the second episode, Hear No Evil, with Red Death coming closer and closer, determined to achieve victory. Check out the synopsis below:
NEW KID IN TOWN – Barry (Grant Gustin) feels guilty for what happened to Caitlin and Mark (Jon Cor) comes up with a plan which makes everyone skeptical. Meanwhile, Red Death looms in Central City and commands that failure is not an option. Joe (Jesse L. Martin) asks Cecile (Danielle Nicolet) to make a choice which leads Cecile to think about the greater good. Allegra (Kayla Compton) and Chester (Brandon McKnight) take a step in a new direction. Lastly, old friends pay an unexpected visit to S.T.A.R. Labs. Eric Wallace directed the episode written by Jonathan Butler & Kristen Kim (#902). Original airdate 2/15/2023.
What are you looking forward the most for the upcoming season? Let us know your thoughts below and in our forum! Don't forget to follow us on Twitter for breaking news!
1/25/2023 7:27 am

It's hard to say goodbye sometimes, and today we have to bid farewell to two popular superhero shows to usher in a brand new era of DC content.
HBO Max has officially announced that Titans and Doom Patrol will both be ending after their fourth seasons later this year. The two programs have recently wrapped up their six-episode Season 4A runs on HBO Max, and will both drop their second and final halves very soon. Fortunately, it sounds like Titans and Doom Patrol will both have the chance to give their fans proper closure as each respective writing team has plotted their current seasons to have full circle endings, so we aren't left on any cliffhangers.
A spokesperson for HBO Max has stated:
While these will be the final seasons of Titans and Doom Patrol, we are very proud of these series and excited for fans to see their climatic endings. We are grateful to Berlanti Productions and Warner Bros. Television for making such thrilling, action-packed, heartfelt series. We thank Titans showrunner Greg Walker, executive producers Greg Berlanti, Akiva Goldsman, Sarah Schechter, Geoff Johns, Richard Hatem, and the team at Weed Road Pictures. For Doom Patrol, we celebrate showrunner Jeremy Carver and executive producers Greg Berlanti, Sarah Schechter, Geoff Johns, Chris Dingess and Tamara Becher-Wilkinson. For four seasons, fans have fallen in love with the Titans and Doom Patrol, investing in their trials and tribulations, and in their legendary battles saving the world time and time again.
The showrunner of Titans, Greg Walker, has also released a statement stating:
I'm immensely proud of our gifted cast, crew and writing staff and their efforts in bringing to life all 49 episodes over the last five-plus years, I couldn't have asked for better partners in Berlanti Productions, Warner Bros. Television, and HBO Max, and from the beginning, Geoff Johns and Akiva Goldsman. I'm incredibly grateful for their unyielding trust throughout this process. Lastly, I have to thank our incredible fans for their continued support, engagement, and the passionate community they've built around our show. We have six episodes left to unleash upon the world that we hope will give our beloved characters the creative closure we all know they deserve.
Doom Patrol executive producer, Jeremy Carver, discussed the series' cancellation in this bulletin:
To our wonderfully supportive partners at HBO Max, Warner Bros. Television, Berlanti Productions, and DC Studios, thank you for indulging us these past four seasons. Also, what were you smoking? To our brilliant cast, indomitable crew, fearless writing staff and, most of all, to our beautiful fans: thank you all the more. You made this a once-in-a-lifetime ride.
DC fans have yet to worry about the future of DC television as James Gunn and Peter Safran, the new co-CEOs of DC Studios, will be taking over all future projects set within the DC multiverse ranging from films, television, animation and video games.
Are you disheartened by this heartbreaking announcement? What were some of your favorite moments from Doom Patrol and Titans? Let us know your thoughts below and in our forum! Don't forget to follow us on Twitter for breaking news!
1/19/2023 7:55 am

Superman and Lois will be returning to our screens very shortly, alongside a new superhero series that will surely be a fan favorite amongst audiences!
Our first look at the third season of Superman and Lois has been revealed and it certainly teases a lot to say the least! The last son of Krypton is seen searching desperately for a missing Lois Lane as the latter hints to her husband that she might be pregnant again. Meanwhile, Jordan and Jonathan - who's now portrayed by Michael Bishop - are seen discussing the former and what he's ultimately being trained for as we also get shots of Superman's closest allies like John Henry Irons in danger. Will the Man of Steel be able to save the day while also keeping his family safe?
Meanwhile, somewhere in the ever-expanding multiverse, Gotham Knights will be making its big debut on The CW and we now have a teaser trailer for the first season! The trailer highlights the death of Bruce Wayne, and how his adopted son, Turner Hayes, must rise to the occasion alongside a plethora of other young heroes like Carrie Kelley, Stephanie Brown and the Row siblings; Harper and Cullen. We also see shots of Harvey Dent, before he's transformed into the terrifying Two-Face, who's played by Misha Collins - a well-known face on the CW.
Topping off these tantalizing trailers is another sneak peek of both shows. March can't come any sooner as Superman and Lois and Gotham Knights will surely leave a lasting impression on both die-hard comic book fans and newcomers alike!
Are you excited for the return of Superman and Lois and the debut of Gotham Knights? What kinds of stories would you like to see told in each respective series? Let us know down in the comments and forum below!
1/11/2023 5:28 pm

The news just keeps coming for The Flash's final season. We've already got quite a list of characters who are set to reprise their Arrowverse mantles, allies and foes alike. Just last month, we saw the teaser trailer hinting that this final journey would tackle quite a lot, and we now have an extended look at what we can expect. While we knew Barry would be battling some classics from the Rogues gallery, we can now see there will be some tension from within Team Flash itself, especially Barry and Iris. We're sure that the power couple will come out of this stronger than ever, but we're curious to know how they might resolve the differing opinions on future knowledge. Check it out:
We also have a new poster, very indicative as it shows Barry running through a street with all the posters from past seasons on either side. It really shows how far the show has gone, from the very first backdoor pilot, to now: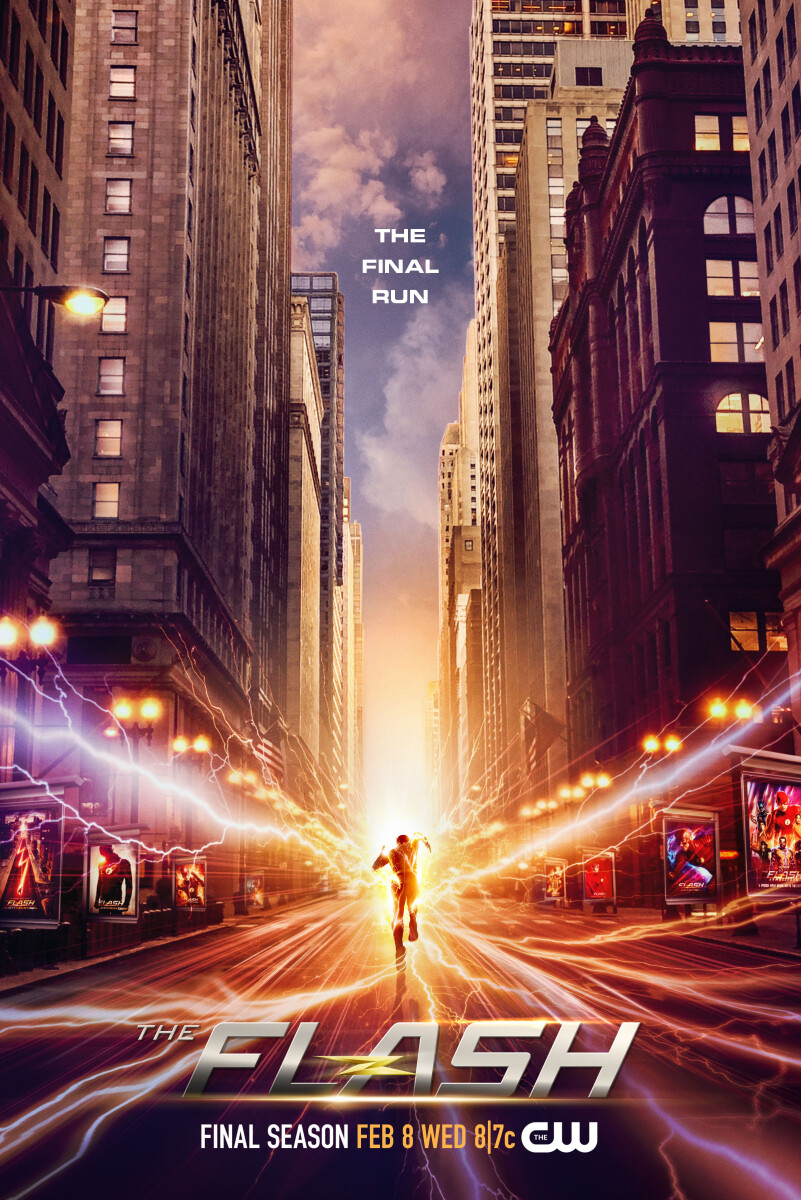 How are you feeling about The Flash's final season? Let us know your thoughts below and in our forum! Don't forget to follow us on Twitter for breaking news!
1/4/2023 7:07 am

The man who started it all is coming back for the final season of The Flash on The CW!
The CW has officially announced today that Stephen Amell, who starred as Oliver Queen in Arrow and its respective spin-offs, will return to guest star in the ninth episode of the final season. He'll be joining previously announced guest stars such as David Ramsey, Sendhil Ramamurthy, and Keiynan Lonsdale. It's yet to be confirmed whether or not he'll be portraying Oliver Queen once again, or the Spectre.
In regards to the return of Amell, executive producer of The Flash, Eric Wallace, has stated:
As soon as our final season was announced, we knew we wanted Stephen to come back and reprise his iconic role as Oliver Queen. After all, it was Oliver who originally launched Barry Allen on his heroic path. That's why everyone on Team Flash felt so strongly that it was important to create a full-circle moment with Oliver's return in the final season of The Flash. The result is an epic-yet-emotional episode we hope Arrowverse fans will enjoy. It's all to say "thank you" to everyone for watching and supporting our show throughout nine wonderful years. We absolutely cannot wait for everyone to see Grant and Stephen saving the world together again. And yes, there will be thrills, chills and tears.
Are you excited for the return of the emerald archer himself? Do you think he'll be returning as the Spectre instead of the Green Arrow? Let us know your thoughts below and in our forum! Don't forget to follow us on Twitter for breaking news!
1/3/2023 10:03 am
It's hard to believe that The Flash is coming to an end later this year; it feels just like yesterday the series was making its debut on The CW in 2014, time certainly goes by in a flash! However, we now have some incredibly enticing news that'll surely make this final season a little more exciting.
Fan-favorite member of the Flash family, Wally West, will be making his triumphant return to the series - portrayed again by Keiynan Lonsdale. The character joined The Flash as a series regular in the second and third seasons, and even had the chance to reoccur on Legends of Tomorrow too.
In regards to some more amazing allies coming back for season nine of The Flash, John Diggle will also appear in the show's final season and be played by David Ramsey once more. Finally, a familiar foe will likely be up to no good in Central City as well considering how Ramsey Rosso, also known as the villainous Bloodwork, is set to appear too, portrayed by Sendhil Ramamurthy.
To commemorate this announcement, the showrunner of The Flash, Eric Wallace, released statements highlighting the returns of Wally West, John Diggle, and Ramsey Rosso.
As one of the legacy Arrowverse characters who helped start it all, John Diggle holds a special place in our hearts, as well as the fans. Plus, the commanding presence and commitment to excellence actor/director David Ramsey brings to the screen each-and every time is truly inspiring. So, of course, it was a no-brainer to have Diggle join Team Flash in our final season! So, get ready for a very emotional reunion as John Diggle aka Spartan helps protect Central City alongside Team Flash one last time.
We're so happy to reunite with the incredibly talented Keiynan Lonsdale as a part of The Flash's final season. Because Kid Flash isn't just another speedster—he's a beloved part of our Team Flash family, so as soon as we knew he was coming back, we set out to create a special and heartfelt story for his return. The result is a brilliant performance from Keiynan that showcases a side of Wally West you've never seen before.
Ever since Sendhil turned in such a brilliantly haunting and unforgettable performance as the tortured Ramsey Rosso in Season Six, we've been looking for a way to bring him back. We also knew we wanted to have Ramsey play a part in Flash's final race. Fortunately, everything came together and now the villainous Bloodwork's return will set into motion one of the Flash's wildest and most emotional adventures yet.
We also have a new poster for the ninth season: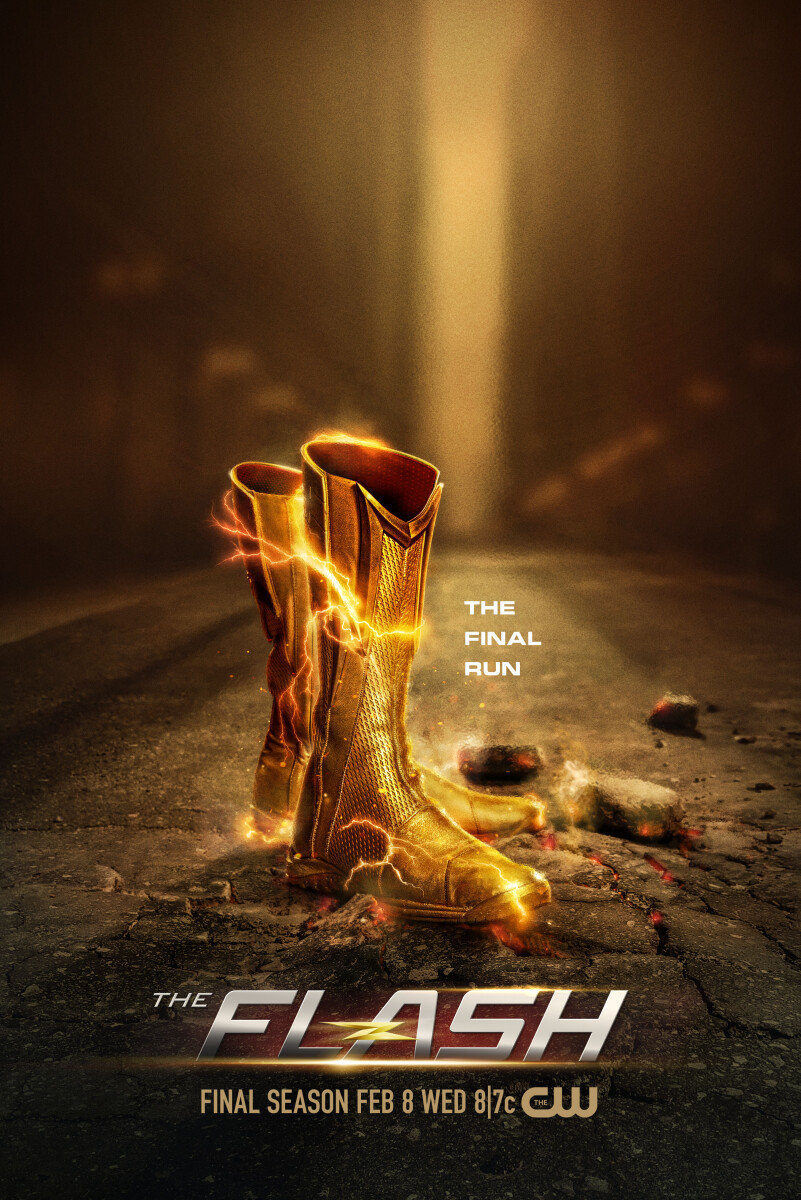 Are you excited for the impending conclusion of The Flash? What kinds of enthralling stories will be told with the return of Kid Flash, Spartan, and Bloodwork? Let us know your thoughts below and in our forum! Don't forget to follow us on Twitter for breaking news!