11/25/2020 10:12 pm

As audiences wait eagerly for new content surrounding the DC universe, a detailed description for one of the most exciting upcoming properties has been released to the public. Green Lantern, which is scheduled to be released on HBO Max, will reportedly be set during three major time periods. Each era will center around a differing member from the Green Lantern Corps, with the specific time periods being the 1940s, the 1980s, and present day. Not only that, but we also know more about which characters will be leading this intriguing new series.
In the 1940s, Alan Scott will be trying to juggle a life of being a closeted gay police officer in Los Angeles and being a member of the Green Lantern Corps at the same time. In the 1980s, Bree Jarta, a half-human and half-alien Green Lantern, must learn to face off against society's unwavering racism alongside her associate, Guy Gardner. Finally, in the present day, Jessica Cruz and Simon Baz will be featured along with characters such as Kilowog and Sinestro.
Here is the full description:
The anthology drama will depict the adventures of a multitude of Lanterns, in three stories set in three different time periods; The 40s, 80s and present day. The 40s part will be about Alan Scott as a closed gay cop in LA. 80s about Guy Gardner and new Lantern character Bree Jarta, half human half Alien. She will face the systemic racism from the 80's while also defending the planet and her sector as a Green Lantern. Present day will be about Jessica Cruz and Simon Baz. The series will also include fan favorites such as Sinestro and Kilowog, and will also introduce new heroes to the ranks of the Green Lantern Corps.
Are you excited for HBO Max's Green Lantern? What kind of stories do you think will come with these interesting characters? Feel free to comment below and in our forum! Don't forget to follow us on Twitter for breaking news!
11/23/2020 11:20 am

The Black Lightning news continues, right on the heels of the show's cancellation. China Anne McClain, who has been playing Jennifer Pierce, the youngest member of the superhero family, released an Instagram video on Saturday detailing her decision to leave the show earlier. She goes on to say that her decision was made before the announcement that the show would be ending after the upcoming 4th season, and that in no way was this decision based on any issues or problems with the show, the cast its crew, nor the network, and that she loves everyone involved in the show, and wishes her co-star Jordan Calloway the best in his spin-off.
While she doesn't list a concrete reason for the decision to leave, saying that there were multiple things that led to this, she does provide general information regarding her changing goals in life, and that this was a personal choice based on everything that had been happening in the past year. McClain also added that she would only be participating in a limited number of episodes in the upcoming season, so we'll be seeing less of her once the season premieres next year.
What are your thoughts on this? Let us know below and in our forum! Don't forget to follow us on Twitter for breaking news!
11/23/2020 9:41 am

Starfire will be getting a new suit for season 3 of Titans, and it looks incredible! For the past few days, HBO Max has been teasing, piece by piece, a new suit for Anna Diop's character, and today, it was fully revealed. Much like Red Hood's own reveal last month, they not only showed the costume design artwork, but also show the actor donning the costume. Titans, who has also made the jump to HBO Max at the beginning of November, is currently filming their third season, and while no official release date has been revealed, we are eagerly awaiting to see what the new season will bring. Meanwhile, check out the newly released images: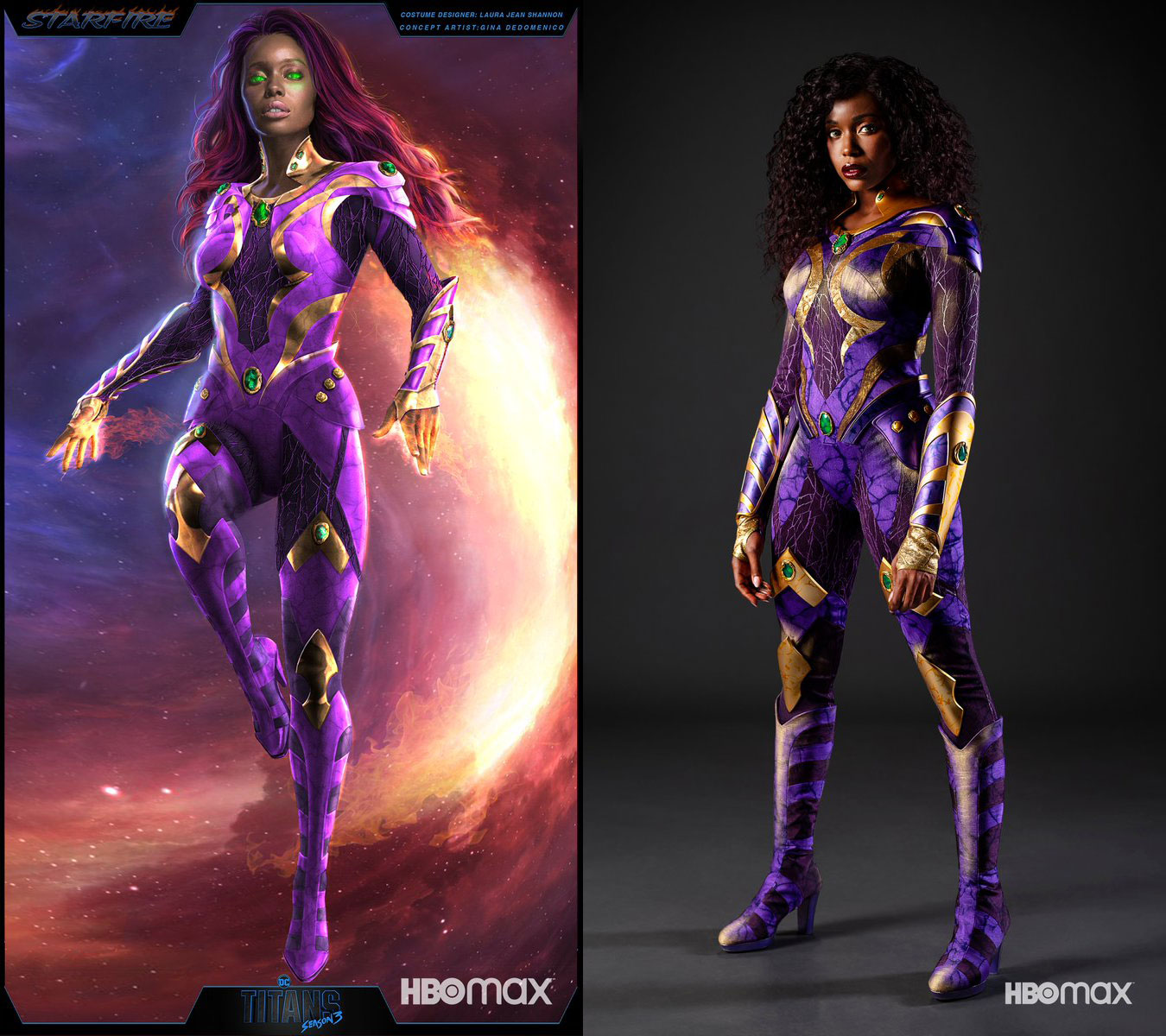 What do you think of the new costume? Let us know your thoughts below and in our forum! Don't forget to follow us on Twitter for breaking news!
11/20/2020 11:06 am

Today we have received more news regarding Black Lightning, but this time, not as uplifting: Season 4, set to air next year, will be its last.
Black Lightning, played by Cress Williams, told the story of the Pierce family as they navigated the superhero world with their powers, as well as racial injustice. The news comes after an announcement just a few days ago that Painkiller, a character from the show, would be getting his own spin-off series, with a backdoor pilot airing during the upcoming season. Regarding the cancellation, executive producer Salim Akil posted a statement regarding the announcement:
When we first started the 'Black Lighting' journey, I knew that Jefferson Pierce and his family of powerful Black Women would be a unique addition to the super hero genre, [...] The love that Blerds and all comic book fans around the globe have shown this series over the past three seasons proved what we imagined, Black People Want To See Themselves in all their complexities. Thank you to the phenomenal cast, writers and crew without whom none of this would've been possible, I'm incredibly proud of the work we've been able to do and the moments we've been able to create in bringing DC's first African-American family of super heroes to life for the culture. I'm very grateful to Peter Roth, Warner Bros. TV, Mark Pedowitz, The CW Network and Greg Berlanti for their partnership and support of my vision at every step of this journey. While Season Four may be the end of one journey, I'm extremely excited to usher in a new chapter and continued collaboration with The CW as we tell the story of Painkiller.
While it's certainly sad to see Black Lightning come to an end, particularly after such a short run in comparison to the other CW shows, we will hope that the Pierce family will get to live on and make appearances in Painkiller. Let us know your thoughts below and in our forum! Don't forget to follow us on Twitter for breaking news!
11/19/2020 11:08 am

Last season, Mike Dugan briefly mentioned Jakeem Thunder, but it seems that this season, we will get to meet this legacy character. For Stargirl's second season, the mysterious pink pen will come into play, and with it, we'll get to meet a host of other characters, including the genie that is trapped in the pen, who, as we previously announced, will be voiced by Jim Gaffigan. Now, the next wielder of the pen's power will be Jakeem, who will be played by Alkoya Brunson, known for his role in the Malibu Rescue franchise. Jakeem is described as:
[...] a legacy character like the other members of the JSA, having picked up the Thunderbolt after its original owner Johnny Thunder lost control of the power of the genie. Unlike Johnny, who had to say a special code to release the Thunderbolt, Jakeem was able to harness the power by clicking the pen and uttering the phrase "so cool".
Are you excited to see Jakeem make his on-screen debut? Let us know your thoughts below and in our forum! Don't forget to follow us on Twitter for breaking news!
11/16/2020 4:25 pm

Just when we were marveling at CW's impressive superhero slate coming next year, we got the news that there's a brand new one in development! The CW is developing Wonder Girl, a brand new series featuring the hero of the same name. In a unique twist, Wonder Girl will not be Cassie Sandsmark, Donna Troy, or even a younger Wonder Woman, but will instead focus on DC Comics' Yara Flor, who was recently revealed as a new Wonder Woman in an upcoming run written and drawn by Joëlle Jones.
Yara Flor will make her debut as the first Latina superhero title character of a DC TV series. Her character is described by Deadline as "a Latina Dreamer who was born of an Amazonian Warrior and a Brazilian River God" and will learn that she is Wonder Girl in the series.
The show will be written by Dailyn Rodriguez, Queen of the South executive producer and co-showrunner. In addition to Rodriguez, the series will be produced with Berlanti Prods.' Greg Berlanti, Sarah Schechter and David Madden. Berlanti Productions produces in association with Warner Bros. Television.
Wonder Girl will join CW's roster of Superhero shows which includes Batwoman, Black Lightning, DC's Legends of Tomorrow, Superman and Lois, Supergirl, and The Flash. No word yet on when we can expect Wonder Girl, but we can only imagine that it will be worth the wait! Let us know your thoughts below and in our forum! Don't forget to follow us on Twitter for breaking news!
11/12/2020 12:17 pm

If you've been keeping up with Black Lightning, you know about Jordan Calloway's Khalil Payne, also known as Painkiller, and his journey from simple teenager, to mind-controlled killer, and beyond. Season 3 gave us a glimpse of the emotional turmoil he was going through, and it seems that his story will be expanded as a potential new series on The CW.
Black Lightning's upcoming seventh episode in Season 4 will feature the backdoor pilot for a spinoff series. It would be helmed by Black Lightning's showrunner: Salim Akil, and of course star Jordan Calloway as the titular character. The story is going to center around Khalil trying to distance himself from the things he has done as Painkiller by moving to a new city, Akashic Valley. But there will be challenges, both from his darker side that's still in his mind, and from people that threaten to destroy the peace he seeks. He will also be taking on a new role as someone who doles out justice, rather than punishing people.
It's certainly an intriguing concept, and we're looking forward to seeing what will come of it, especially since as of now, there's no word on the other spinoff series that was set to feature Mia Queen, whose own backdoor pilot aired last year as part of Arrow's final season.
Let us know your thoughts below and in our forum! Don't forget to follow us on Twitter for breaking news!