3/6/2023 11:46 am

We're a little over a week away before Superman and Lois returns to our screen, and we are already looking ahead to the 2nd episode's synopsis, giving us a hint of what's to come. We know this season will see Lois going through a lot, and perhaps it's starting as soon as the first or second episode? The people closest to her are noticing something is different, it'll be interesting to see what's throwing Lois off her game. With the younger cast, we're going to see Jordan and Sarah, albeit in a weird encounter. And to close things off, we'll also be checking in on Lana, and we have to ask ourselves who might the caller be, and what's gotten them so shaken? Check it out?
ELIZABETH HENSTRIDGE DIRECTS THE EPISODE – Clark (Tyler Hoechlin) and Chrissy (Sofia Hasmik) both notice a small crack in Lois' (Elizabeth Tulloch) game face. Meanwhile, Sarah (Inde Navarette) and Jordan (Alex Garfin) have an awkward encounter. Lastly, Lana (Emmanuelle Chriqui) receives a panicked phone call. Elizabeth Henstridge directed the episode written by Katie Aldrin (#302). Original airdate 3/21/2023.
Who do you think the caller is? Let us know your thoughts below and in our forum! Don't forget to follow us on Twitter for breaking news!
3/5/2023 8:02 am

As we get closer and closer to March 14th, let's pause our coverage of The Flash's fantastic final season and take a look at what's to come for both the newest CW show: Gotham Knights, as well as the returning extravaganza that is Superman & Lois. We have the synopses for both shows, and while it doesn't reveal anything new that we didn't already know, it does give us some insight. For Gotham Knights, we get an updated look at who our heroes are, where they are when Batman dies, and from the looks of it, confirmation that the world knows Bruce was Batman. Check out the synopsis:
SERIES PREMIERE — Batman is dead, and a powder keg has ignited Gotham City without the Dark Knight to protect it. In the wake of Bruce Wayne's murder, his adopted son Turner Hayes (Oscar Morgan) is framed for killing the Caped Crusader, along with the children of some of Batman's enemies: Duela Doe (Olivia Rose Keegan), aka The Joker's Daughter, an unpredictable fighter and skilled thief who was born in Arkham Asylum and abandoned by her father, Harper Row (Fallon Smythe), a streetwise and acerbic engineer who can fix anything, and her brother Cullen Row (Tyler DiChiara), a clever transgender teen who is tired of being polite and agreeable. With the charismatic and hard-charging District Attorney Harvey Dent (Misha Collins) and the GCPD hot on their trail, Turner will rely on allies including his best friend and formidable coder Stephanie Brown (Anna Lore), and unlikely Batman sidekick Carrie Kelley (Navia Robinson). But our Knights will soon learn there is a larger, more nefarious force at work within Gotham City. This team of mismatched fugitives must band together to become its next generation of saviors known as the "Gotham Knights." Also starring Rahart Adams as Brody March. Danny Cannon directed the episode written by Natalie Abrams, Chad Fiveash & James Stoteraux (#101). Original airdate 3/14/2023.
Turning to Superman & Lois, the third season will be kicking off a few weeks after the explosive season finale, with what looks like a blissful slow start that we know will turn chaotic soon enough. Check it out:
SEASON PREMIERE DIRECTED BY TOM CAVANAGH – Season three of SUPERMAN & LOIS opens weeks after Superman's blowout defeat of Ally Allston. Clark (Tyler Hoechlin) and Lois (Elizabeth Tulloch) are now working at the Smallville Gazette together and enjoying small town life. But the Kents' romantic bliss only shines a light on how isolating "the secret" can be, as Chrissy (Sofia Hasmik) struggles to balance a new love interest and her friendship with Lois. However, Lois' own work-life balance is put to the test when an undercover assignment reveals a deadly foe that promises to change the Kent family forever. Superman would move heaven and earth for his family, but with a villain this merciless, even that might not be enough. Meanwhile, the Kent boys find themselves being pulled in opposite directions. Amid all this upheaval, John Henry (Wolé Parks) is haunted by his doppelgänger's past, leading to dangerous consequences for him and Natalie (Tayler Buck). Lana Lang (Emmanuelle Chriqui) and Kyle (Erik Valdez) redefine their family post-separation, while Sarah (Inde Navarrette) explores what the future holds for her and Jordan now that she knows the truth about his powers. Having learned the hard way that no one else can be trusted to work with Superman, General Samuel Lane (Dylan Walsh) reclaims his post at the Department of Defense, only to face his own conflict in working with his grandson, Jordan. Tom Cavanagh directed the episode written by Brent Fletcher & Todd Helbing (#301). Original airdate 3/14/2023.
Which show are you most looking forward to seeing on Tuesday? Let us know your thoughts below and in our forum! Don't forget to follow us on Twitter for breaking news!
3/3/2023 4:44 pm

Today we've got a double update with the galleries of the next two episodes! Both galleries only have four pictures each, and they don't tell us much, but as we reach the halfway point of the final season, it's easy to see why there's so many hugs going around. After so many years, we truly do feel that everyone has become a big family. But it doesn't deter from the fact that Red Death is very much out there, and Team Flash will have to come together to stop this new threat. Take a look at the gallery for the continuation the Mask of the Red Death:
And here's the gallery for the sixth episode:
Let us know your thoughts below and in our forum! Don't forget to follow us on Twitter for breaking news!
3/2/2023 9:31 am

The final season of The Flash is heating up, and the latest teaser for next week's episode, Mask of the Red Death, Part Two", showcases various fearsome foes returning to cause trouble for the Flash and his friends.
As seen in the trailer, we'll get to see more of the Red Death in action, portrayed by Javicia Leslie. We also see the return of Goldface, played by Damion Poitier, who's likely up to no good. The Red Death has been a formidable force to those standing in her way, how will Team Flash be able to save the day and stop the nefarious speedster? We've made quite a bit of progress towards the grand finale for The Flash, so stay tuned to see if our favorite heroes will meet us at the end of the finish line!
What did you think of the teaser for "Mask of the Red Death, Part Two?" What other kinds of surprises can we expect in The Flash season nine? Let us know your thoughts below and in our forum! Don't forget to follow us on Twitter for breaking news!
3/1/2023 9:22 am

After being left with a gripping cliffhanger of Red Death's unmasking last episode, we've been hungrily waiting for any speck of information regarding this week's episode. Now that the CW's released the synopsis for "The Good, The Bad and The Lucky", we can certainly say that we're feeling the luck! See the full synopsis below:
LUCK BE A LADY – As Barry (Grant Gustin) and Iris (Candice Patton) prepare for their new life, luck changes for those in Central City. Cecile (Danielle Nicolet) takes on a case with Allegra's (Kayla Compton) help, involving a string of unfortunate – and highly unexpected – events. Meanwhile, Chester (Brandon McKnight) and the team work with Khione (Danielle Panabaker) to figure out her abilities. Chad Lowe directed the episode written by Thomas Pound & Jess Carson (#906). Original airdate 3/15/2023.
While the synopsis makes no mention of Red Death, we're very much hoping we get some answers sooner rather than later. What do you think of the synopsis of "The Good, The Bad and The Lucky"? Let us know in the comments below, on our forum, or by tagging us on our socials! Don't forget to follow us on Twitter for breaking news!
3/1/2023 8:24 am

A brand new season of Superman and Lois is almost upon us, and we not only have some enticing teaser images, but also a fantastic poster to commemorate the third season as well!
"Closer", directed by Arrowverse alumni Tom Cavanagh, will start out the show's third season and going off the still below, there'll certainly be a lot to unpack. The titular couple are seen discussing the shocking news from the trailer that Lois may be pregnant with her third child. Meanwhile, a birthday bonanza for Jordan and Jonathan, who's now played by Michael Bishop, is being held with multitudes of recurring characters making it out to celebrate the lovely occasion. However, all may not be well as the final shot showcases the last son of Krypton looking on forlorn at what may be his next big challenge.
And check out the poster released: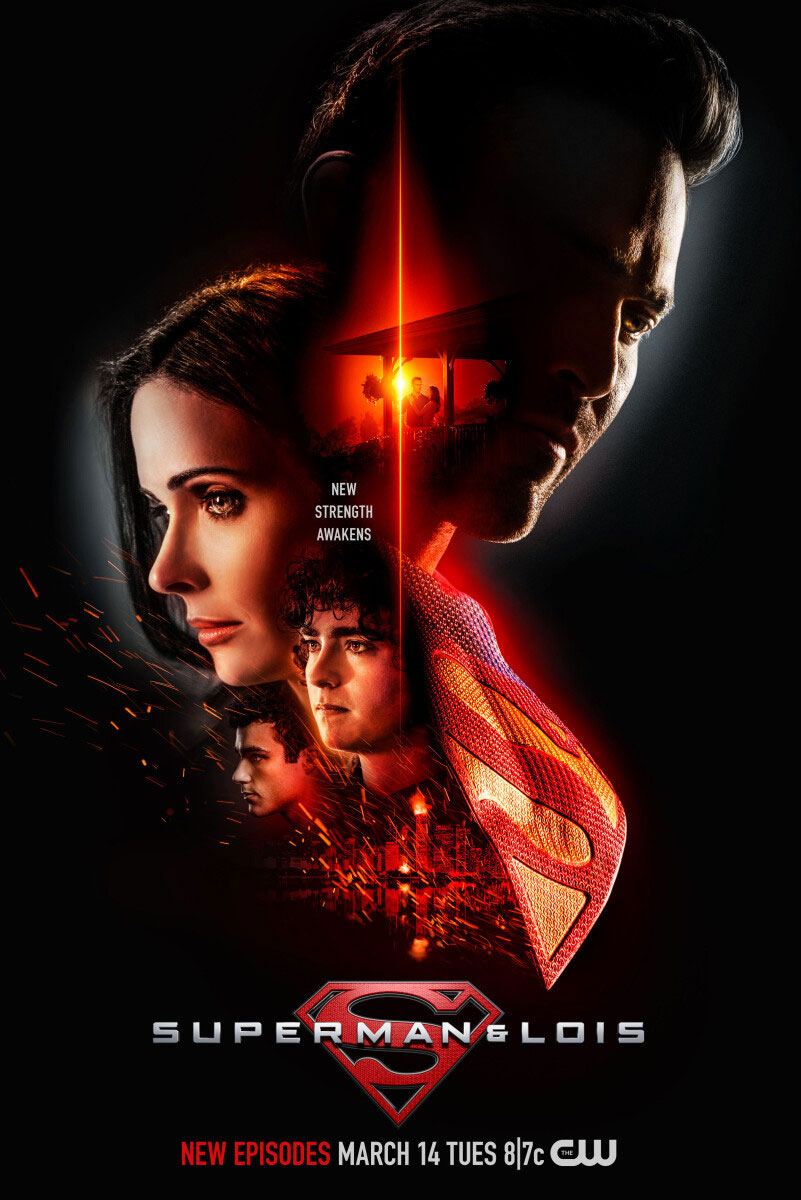 What kinds of dangers will the son of Jor-El take on this season? Will he be able to protect both the world and his family? Theorize with us below and in our forum! Don't forget to follow us on Twitter for breaking news!
2/22/2023 3:18 pm

Here we go - Flash vs. Red Death. Of course, we know who is under the mask, but for Barry and co, this will be quite the twist for them. While Barry tries to plead his case, captured as he is, the city will lose power, and from the very brief glimpse we got of Iris' visitor, it seems like Ryan Wilder will be dropping by for a visit, but not the Ryan we've come to know over on Batwoman. Red Death is determined to have her victory, and clearly has no limits, including trickery. We'll have to wait and see if Red Death will be successful. Check out the full trailer below:
Let us know your thoughts below and in our forum! Don't forget to follow us on Twitter for breaking news!