1/19/2021 12:16 pm

It very much feels like now more than ever is the golden era of comic books on television. The ever expanding Arrowverse and Titanverse continue to grow and add spin-offs while still connecting shared storylines. Turning our focus to Titans, the highly anticipated season three moves the Titans back to a familiar city, Gotham. While working there, the team will come into contact with Police Commissioner Gordon, but not that Gordon. According to Variety.com, former Batgirl and daughter of the previous police commersioner, Barbara Gordon will take up that mantle. She is officially described as:
Gordon is Gotham City Police Commissioner. Uses a wheelchair. She used to be Batgirl until she was shot and paralyzed by the Joker. She has a combative relationship with Bruce Wayne. Her life gets more complicated when Dick Grayson (Brenton Thwaites) returns to Gotham, rekindling their old romance and starting a new crime fighting partnership.
This new vision of Gotham is a very interesting one. Barbara Gordon has often been such a pivitol character in many mediums. She is the all information gathering Oracle on the animated HBO Max show Young Justice and played a mentor role in The CW show, Birds of Prey. Seeing Barbara in the commissioner role has us very interested! Let us know your thoughts below and in our forum! Don't forget to follow us on Twitter for breaking news!
1/18/2021 9:38 am

Did you catch the season premiere of Batwoman last night? A lot of things happened, so we'd highly recommend checking that out before taking a look at the trailer for next week's episode. It seems that Ryan will get to be a hero out of the suit as well, stopping robbers at a convenience store, as well as taking on Alice and whatever nefarious plan she might be cooking up. But despite her skills and heroic tendencies, it looks like she'll have to prove to everyone around her, enemies and allies alike, that she's worthy of wearing the Bat symbol. Check out the trailer below:
What did you think of yesterday's episode? Let us know your thoughts below and in our forum! Don't forget to follow us on Twitter for breaking news!
1/16/2021 12:20 pm

Batwoman's second season premiere is happening tomorrow night, and meanwhile, the CW has given the plot synopsis for the third episode. Of course, growing pains are very common when it comes to new superheroes, and Ryan is no stranger to that. It seems that juggling her secret identity, while also proving herself to her team of allies, plus it seems we'll get to see the debut of Ryan's new suit. As if it wasn't enough, we'll also be seeing the introduction of Szasz to the show, and Safiyah's noticing Alice. Check out the synopsis below:
NEW HERO, NEW SUIT - As Ryan Wilder (Javicia Leslie) continues to prove herself as Batwoman, she encounters the challenge of every superhero – living a double life. Mary (Nicole Kang) is still Team Ryan, while Luke (Camrus Johnson) continues to have reservations – especially when Ryan makes some alterations and unveils a new Batsuit! Meanwhile, Victor Szasz (guest star Alex Morf) is slashing his way through the city streets, and Commander Kane (Dougray Scott) has The Crows trying to stop the flow of Snakebite through Gotham. Safiyah (guest star Shivaani Ghai) takes notice of Alice's (Rachel Skarsten) antics and Sophie (Meagan Tandy) finds herself in unexpected circumstances. Holly Dale directed the episode written by Nancy Kiu (#203). Original airdate 1/31/2021.
Let us know your thoughts below and in our forum! Don't forget to follow us on Twitter for breaking news!
1/13/2021 9:32 pm
A brand-new antagonist is joining the world of The Flash, and he's going to certainly send chills down the spines of our heroes. Last season, Barry Allen and his allies had to find a way to defeat Eva McCulloch, portrayed by Efrat Dor, and that ultimately became the dangling threat from Season 6's finale. Once she's defeated, Team Flash will have to face off against their next big adversary in the form of Chillblaine.
Jon Cor has been tapped to play Mark Stevens in a recurring guest role throughout the season. The character description identifies him as:
A charismatic bad boy obsessed with cryogenic technology. But when he's not breaking into corporate safes, he's busy breaking hearts with his irresistible charm and roguish style. Armed with his own cold weapons, he'll become a new thorn in the side of Team Flash as the DC Comics villain Chillblaine.
Cor has previously had roles in Shadowhunters, Being Human, Dark Matter, and Total Drama: Revenge of the Island.
Are you excited to see what Chillblaine brings to the table? What kind of mayhem do you think he'll cause for Team Flash? Let us know in the comments below and in our forum! Don't forget to follow us on Twitter for breaking news!
1/12/2021 9:02 pm

The news today just keep coming! We're just days away from the premiere of season 2, and if you already thought things were going to be action-packed, we have more exciting news. The list of villains that will be coming to Batwoman's second season keeps growing, now with Black Mask making his debut this season. Fans might remember him from the Birds of Prey movie in early 2020, and some comics fans might have already surmised that he'd be appearing, considering the season synopsis mentioned the False Face Society, known to be Black Mask's gang. While we don't know who will be playing him, Caroline Dries explained to Entertainment Weekly as to how they'll be involving him and the False Face Society to Ryan and her history:
While Ryan never used drugs, she was in a relationship where somebody was using drugs and it's ultimately what got Ryan put away in jail. So, it's this idea that Ryan is this innocent woman and if she were white, per se, she might not have had the same punishment [that] she, as an innocent Black woman, had to go through. That's a huge piece of her backstory, so that's something we're exploring this year. Batwoman has this particular vendetta against the False Face Society because the idea of drugs permeating the city and nobody taking any responsibility for it strikes at her core.
The season's other big bad, Safiyah, has long been known that she'd be appearing eventually. Last season we had heard whispers, and now Entertainment Weekly has released the first look at how Shivaani Ghai is bringing the queen of Coryana to life. Check it out below: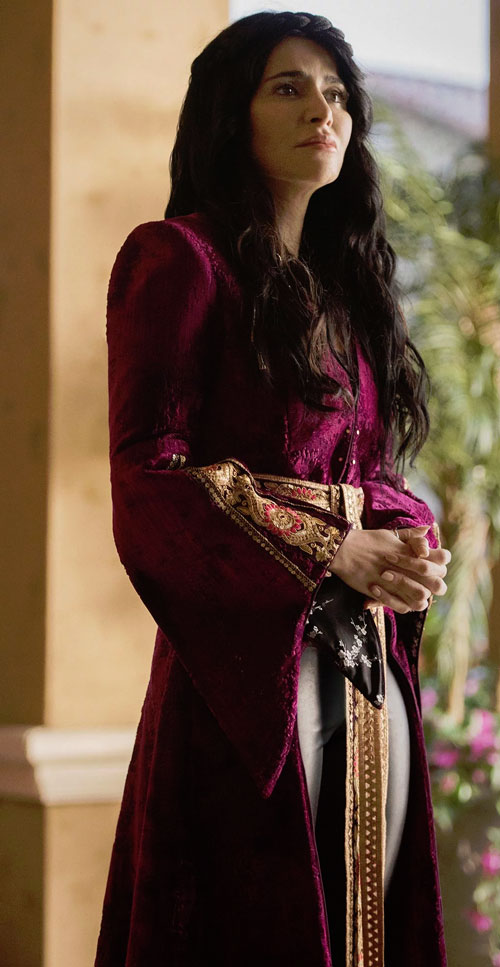 What do you think of this season's villains? Let us know your thoughts below and in our forum! Don't forget to follow us on Twitter for breaking news!
1/12/2021 12:01 pm

Yesterday, we posted the synopsis for Batwoman's second episode, Prior Criminal History, and today, we have 8 new images showing some very interesting things are about to happen. Between Alice holding a knife to Julia's throat, Ryan in the Batcave, and what seems to be the Crows readying for something, it seems like this will be a very action-packed ep. We're sure that these images barely scratch the surface of what's to come, check it out below:
What do you think will be happening? Let us know your thoughts below and in our forum! Don't forget to follow us on Twitter for breaking news!
1/11/2021 1:09 pm

Batwoman will be returning to our screens this Sunday with an action-packed premiere that will set the tone for the season, as well as introduce our key players! Even more exciting is that we've already got the synopsis for the second episode, which will air on the 24th, and it's intriguing to say the least! It doesn't have any spoilers, but does give you an idea of where things stand, and also mentions a meeting between Alice and Ryan, which should be very interesting. Check out the full synopsis below:
DOWNRIGHT BATTY – After her quick spin in the Batgear, Ryan Wilder (Javicia Leslie) is back to facing the daily challenges of life as herself. Meanwhile, Alice (Rachel Skarsten) has a new, devious plan to get the attention of both Gotham and Safiyah (guest star Shivaani Ghai). With Kate still missing and the city in an uprising, Luke (Camrus Johnson) and Mary (Nicole Kang) are desperate to find a stand in. In a pinch, Ryan dons the suit again and comes face-to-face with Alice for the first time. Back at Crows Headquarters, Sophie and Commander Kane try to uncover who may have had a vendetta against Kate. Carl Seaton directed the episode written by James Stoteraux and Chad Fiveash (#202). Original airdate 1/24/2021.
What are your thoughts? Let us know your thoughts below and in our forum! Don't forget to follow us on Twitter for breaking news!