10/23/2020 2:54 pm

The cast of colorful characters for Superman and Lois is getting bigger and bigger every day with the newest casting announcement. Stacey Farber, best known for her role on Degrassi: The Next Generation, has been cast to portray Leslie Larr, in a recurring role in the first season. Larr is described as:
The right hand to one of the most influential people on the planet, she's gone from a young, idealistic dreamer to a hardened, world-worn dream killer. Athletic, strong… and oftentimes heartless.
Joining Farber will be Tyler Hoechlin and Elizabeth Tulloch as series leads, Clark Kent and Lois Lane, and their sons, Jonathan and Jordan, played by Jordan Elsass and Alexander Garfin.
What kind of character do you imagine Larr being like? Will she be on the side of evil or will she be aligned with the good guys' side? Comment down below and in our forum on this exciting news! Don't forget to follow us on Twitter for breaking news!
10/23/2020 2:04 pm

We here at DCTV were incredibly lucky enough to receive press access to the New York Comic Con panel of Batman: Death in the Family. This new animated movie differs from prior installments in the DC animated movie franchise as it's completely interactive. Continuing the path left by Batman: Under the Red Hood, viewers can decide whether Jason Todd lives or dies and whether or not he goes down a more heroic route or a much more sinister path. Appearing at this event was the director, Brandon Vietti, who also co-produces Young Justice alongside Greg Weisman. Not only that, but actors from the movie were present too like Vincent Martella, Bruce Greenwood, and Zehra Fazal. Read down below about the exciting elements that this interactive movie has to offer!
BRUCE GREENWOOD
1. What was it like reprising the role of Batman after portraying the character in so many different projects in the past?
Well, ten years of talking more than I should has lowered my voice already. Ten years later your body changes and you have to roll with these changes. I came in with some pretty mushy clay [in reference to the movie] and they said, 'It's not that shape.' It was a really collaborative process.
2. Considering how there are more interpretations of the Dark Knight than there is to count, was there pressure in trying to live up to prior performers who took on this role?
I was woefully ignorant of the superior "Batmans" that had come before me. It was in a way that was lucky because I didn't realize how much I had to live up to. I was just preparing for the character as I saw him. It wasn't until later that I realized how many seminal performances had been iterated by other voice actors. There were generally no comparisons in my mind because I had the good sense not to go there.
VINCENT MARTELLA
1. Many people may know you as Phineas Flynn from the popular children's show, Disney's Phineas and Ferb, was playing Jason Todd, a much darker character, a hard challenge when compared to the more light-hearted material of Phineas and Ferb?
I think all actors like playing different roles and getting to express themselves differently. I probably enjoyed the villain versions of Jason Todd the most just because they were darker and that was fun for me texplore. Some of that art and those scenes are my favorite parts of the film.
2. What was it like to uncover the dimensions of character that each take on Jason Todd had?
Even just getting the call knowing that I was not only getting to play this character again, but playing Jason Todd in a lot of different ways that I didn't get to explore the character in Batman: Under the Red Hood was exciting. This was a cool opportunity to explore new parts of him, and to show the audience more of who is and who he could possibly become. It was an exciting experience as an actor to do more with this character.
ZEHRA FAZAL
1. Even though you weren't in the original movie, what was your initial reaction to the offer to portray Talia Al Ghul in this movie?
I learned that Brandon Vietti scripts are gold and if you get a Brandon Vietti script, you know it's going to be good. You know it's going to be complex and satisfying. When he approached me to voice Talia in this adaptation of Death in the Family, I was so excited. Not only because it was an adaptation of this famous story from the comics, but it's a Brandon Vietti script and it's going to be amazing. I was so flattered and grateful to collaborate with Brandon not only on Young Justice: Outsiders, but this project as well. I have so much respect for his work.
2. What's the character of Talia like in this movie? How would you describe what's going on in her head?
I think Talia is very much in control. I think there's an element of her relishing how much in control she is, but I also think there is, in her, this desire to strike out and create something different and come out from under her father's shadow.
BRANDON VIETTI
1. What was it like returning to the story of these characters, specifically Jason Todd, after Batman: Under the Red Hood?
Honestly, It's sort of an amazing privilege because how often does an opportunity like this happen? I didn't expect Batman: Under the Red Hood to evolve into a series of movies like this. It was just this really great opportunity to make an amazing story by Judd Winick, and then it was done. It was amazing because over the years, people would let me know how much they loved the movie, which was consistent throughout the years. People would keep finding it, and they would contact me to tell me they enjoyed the movie. To have a new opportunity to go back into that movie and do some new story and character exploration was really incredible and unique.
2. What was the decision behind transforming the film into a Choose Your Own Adventure story?
With the way technology is evolving, this was just sort of out there in the world. There's streaming services exploring things like that. So, it's been out there, and it's something I've been pursuing in animation. I've gone to my bosses and asked about before and one day, it finally bubbled up. Warner Home Video and Warner Brothers Animation decided to team up and explore this, and they knew I was interested. So, it landed in my lap, and I couldn't have been more excited. I really enjoy trying to find new ways to tell a story and immerse an audience in a story. I think allowing the audience to make their own choices and guide the story's a really interesting storytelling tool.
Did you happen to check out the movie? What were your thoughts on the Choose Your Own Adventure-style story? Would you like to see more interactive specials like this in the future? Let us know down below and in our forum what you think and what you desire to see in the future! Don't forget to follow us on Twitter for breaking news!
10/19/2020 8:50 pm

The Legends are certainly growing their cast out for the new season, whether by turning recurring cast to regulars, or by adding fresh faces to the roster. Today, according to TVLine, newcomer Raffi Barsoumian is joining the ranks, and from what his official character description says, he might be this season's big bad! Barsoumian, known for his role in Vampire Diaries and The Code, will be playing Bishop, and he is described as a man who has:
[...]seen the end of the world, and he thinks he has a way to save it. But despite his purported love of humanity, Bishop isn't great with people. He pretends to be a groovy bon vivant with a taste for cognac and a killer vinyl collection, but in fact, he's a sadistic egomaniac who treats all living creatures — human and alien alike — as his scientific playthings. Bishop's drive to play god may very well hasten the world's end. And it was no accident that Bishop lived to see the world's end. He used his brilliant scientific mind to give himself, well, certain enhancements.
Yikes, seems like the Legends will have a handful with him! But knowing them, Bishop might just be joining the Waverider as part of the team in the not-so distant future. What do you think of this new addition? Let us know your thoughts below and in our forum! Don't forget to follow us on Twitter for breaking news!
10/9/2020 11:01 am

The Green Lantern Corps are finally getting another chance to shine on screen with the upcoming HBO Max exclusive series. Comicbook.com has learned that a ten episode order has been commissioned for Green Lantern, along with the reveal that Marc Guggenheim and Seth Grahame-Smith will be writing and executive producing the series as well. Not only that, but some of the main characters has been revealed and we now know which major members of the Green Lantern Corps will be debuting in the show.
Making their live-action debuts will be Guy Gardner, Jessica Cruz, Simon Baz and Alan Scott, but there's no current mention of Hal Jordan, John Stewart, or Kyle Rayner appearing at the moment. Other characters in the Green Lantern mythology joining in will be Kilowog and Sinestro, along with many other exciting additions to be revealed in the future.
Considering it's been nearly a decade since we've last seen these characters in live-action, it's certainly exciting to see where this show will take these stories and iconic leads to. Feel free to leave down below your thoughts and desires for HBO Max's Green Lantern!
10/2/2020 1:13 pm

We're going to be getting a lot more of Gary in the coming season! As if dealing with aliens and a missing captain weren't enough, the Waverider will be welcoming Gary as a full-fledged Legend! It's been a dream of his for quite a while, and we're interested to see how he might change the dynamic, and what he'll be bringing to the table. From what has been teased, there's more to Gary than meets the eye, particularly regarding his origins.
What do you think Gary's addition will bring to the motley group of heroes? Let us know your thoughts below and in our forum! Don't forget to follow us on Twitter for breaking news!
10/2/2020 12:21 pm

Victor Zsasz is no stranger to the Batman mythos, and if you saw the latest Harley Quinn movie, you had a chance to get to know what kind of a character he is. For Batwoman's second season, it seems that he too will be joining the list of new villains to terrorize Gotham. While we don't have any details on what role he will be playing, or whether he will be making his appearance as a lone player or as part of a bigger conspiracy, we have learnt that Alex Morf will be playing the new villain. Morf is no stranger to Batman, having appeared in the Gotham show as a gang leader. His new role is described as follows:
A charismatic, skilled hitman with high, unpredictable energy. He proudly carves tally marks onto his skin for every victim he kills.
As an added detail, the current production of Batwoman had to slow due to COVID-19, with rigorous testing to curb cases. We are imagining that other shows are also going through the same measures.
What are your thoughts on this new addition? Let us know your thoughts below and in our forum! Don't forget to follow us on Twitter for breaking news!
9/30/2020 12:39 pm

The Batwoman news continues! Javicia Leslie recently released an image showing a glimpse of how the new Batwoman will look for Season 2. Although the image is just from above the shoulders, we are loving what we see right now. Particularly because this might not be the final version that Ryan Wilder, Leslie's character, will be using. In her instagram post showing off the image she says that her character will be putting "her own spin on the Batsuit" and we can't wait to see it.
Check out the full image below: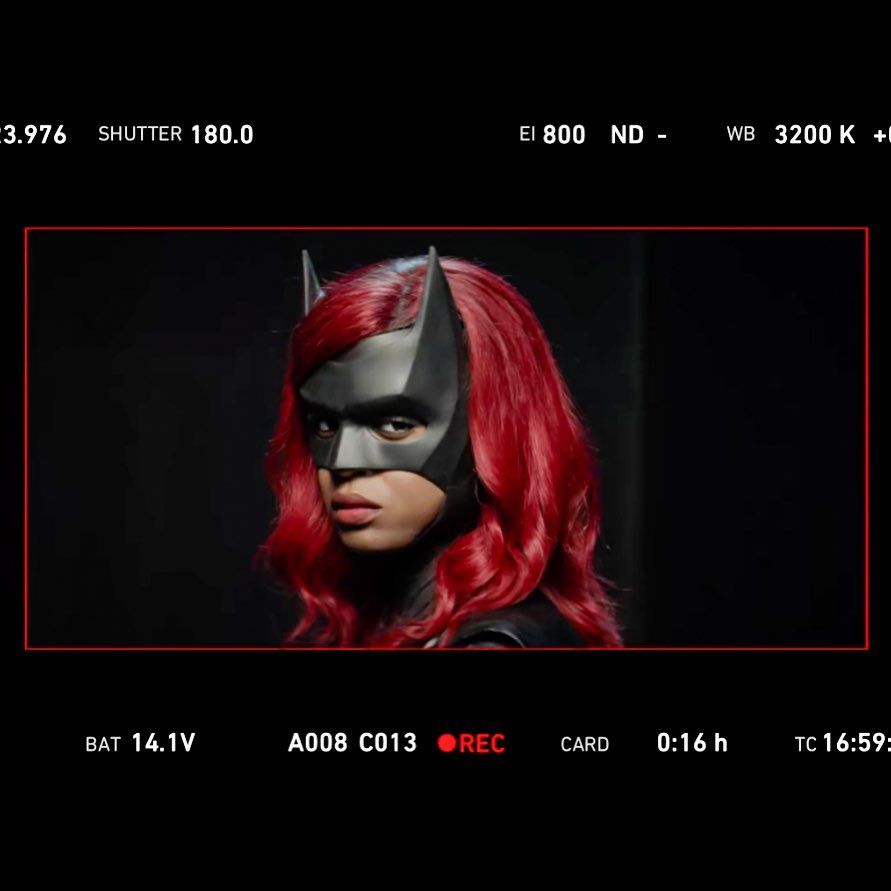 Let us know your thoughts below and in our forum! Don't forget to follow us on Twitter for breaking news!