5/19/2022 12:49 pm
Earlier today the CW had their upfronts, and a lot of news came out of it! So let's tackle it all.
First and foremost, we have Stargirl coming back this Fall, airing on Wednesdays from 8-9pm EST/PST. No premiere date has been given yet, but we're excited to see what the third season will bring!
The other DC Universe shows will be returning in the Midseason, so the new seasons of Superman & Lois, Flash, as well as the premiere for Gotham Knights, are still a little while away.
Speaking of Gotham Knights, we have a poster with the first look that has been released, showing the protagonists walking down a Gotham alley. Check it out: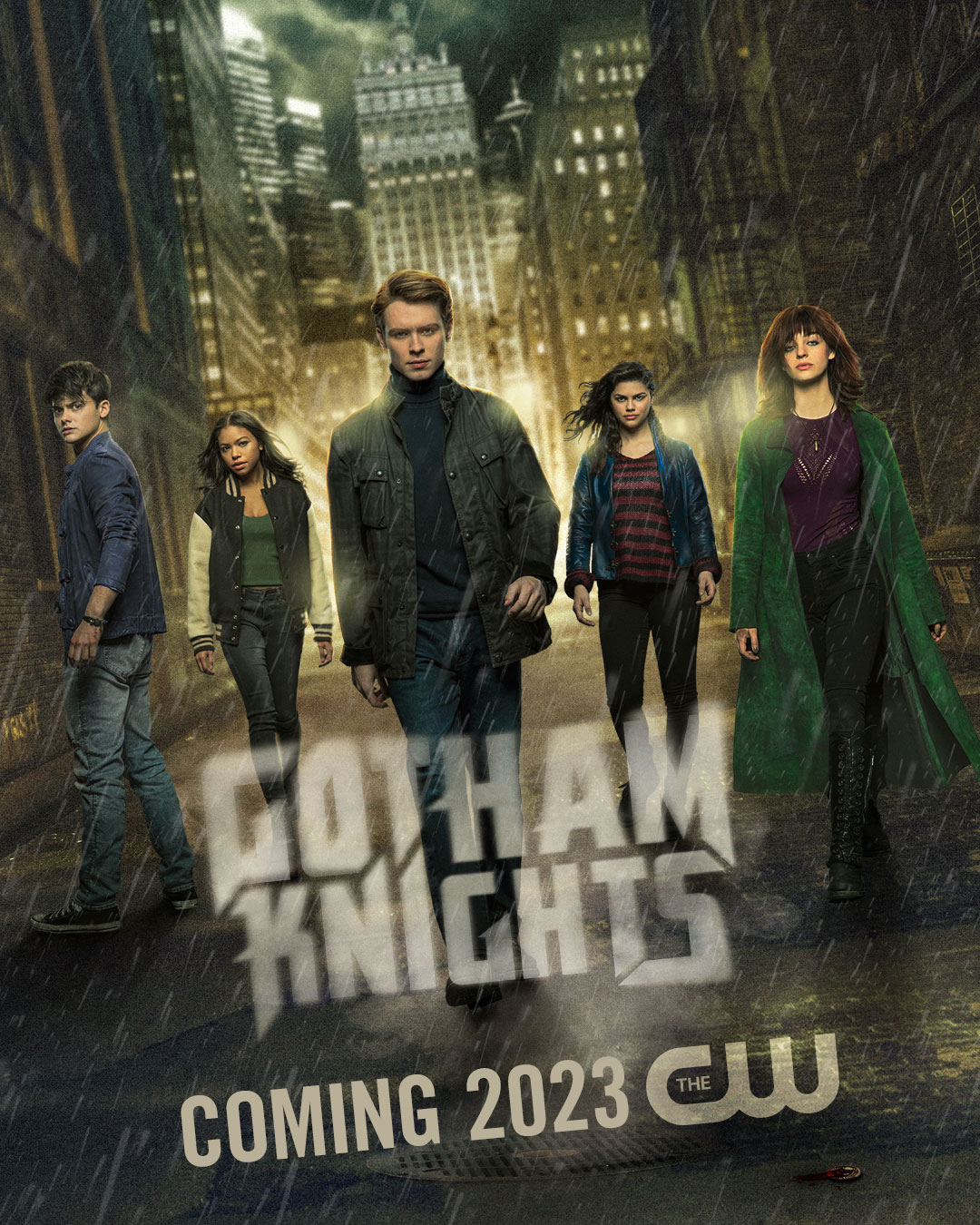 What do you think of the Gotham Knights characters so far? Let us know your thoughts below and in our forum! Don't forget to follow us on Twitter for breaking news!
5/19/2022 12:24 pm

After our latest visit to the Still Force, we're now tackling an aging Flash! Barry will be going through quite an accelerated aging process that he must solve before time runs out. And from the looks of the trailer, we'll get to see some levity brought to the situation, with cracking joints, greying temples, and less of an ability to pinpoint direction accurately. After so much seriousness over the last few episodes, it'll be nice to see some much needed fun to what would be an otherwise dire situation. Check out the full trailer below:
Let us know your thoughts below and in our forum! Don't forget to follow us on Twitter for breaking news!
5/16/2022 7:40 pm

Netflix is drumming up excitement for another Geeked Week event, full of sneak peeks and announcements galore. As to whether the Sandman is part of this event, the answer is a resounding yes!
Today Netflix released a first look of Gwendoline Christie, as Lucifer, the ruler of hell, in a new trailer. Towards the end of the clip, we see a winged Lucifer with a wry smile, asking Dream if he is well.
Geeked Week 2022 begins on June 6th and ends on the 10th. We have yet to know a release date for The Sandman, but the possibility of it being revealed during the event is high. Let us know your thoughts below and in our forum! Don't forget to follow us on Twitter for breaking news!
5/13/2022 5:16 am

After the surprising twist ending of the prior episode, Superman and Lois is finally returning with a brand new episode that picks up right where we left off. Clark and Lana are still at a standstill with the former revealing his secret identity to his childhood friend. Meanwhile, the Kent brothers are skeptical of their parents telling them the truth while Natalie tries to help Sarah with her issues with Jordan. We're nearing the end of Superman and Lois season two, and this'll certainly be one epic culmination to such a shocking twist. Take a look into the synopsis below, and prepare for one enticing episode!
SUPERMAN & LOIS IS BACK WITH AN ORIGINAL EPISODE! — We pick up right where we left off with Clark (Tyler Hoechlin) levitating in front of Lana (Emmanuelle Chriqui). Meanwhile, Jordan (Alex Garfin) and Jonathan (Jordan Elsass) question whether Lois (Elizabeth Tulloch) and Clark are telling them the complete story. Lastly, Natalie (Tayler Buck) tries her best to get Sarah (Inde Navarrette) to acknowledge Jordan. Erik Valdez, Wole Parks, Sofia Hasmik, Taylor Buck and Dylan Walsh also star. The episode was directed by David Mahmoudieh and written by Rina Mimoun (#212). Original airdate 5/31/2022.
Are you excited for the twelfth episode of Superman and Lois season two? Where do you think the story will go for the final episodes? Let us know your thoughts below and in our forum! Don't forget to follow us on Twitter for breaking news!
5/12/2022 11:37 am

The CW has ordered three pilots for full series orders, one of which includes the highly anticipated Gotham Knights. Greenlit for the 2022-2023 season, the series will follow the adventures of the adopted son of Bruce Wayne, who was recently murdered, and their unlikely alliances with children of Batman's rogues gallery. Wishing to clear their names and with Gotham City being run with rampant crime after the demise of the Dark Knight of Gotham, it'll be up to this ragtag group of young crime-fighters to become the next generation of saviors.
Gotham Knights will star Oscar Morgan as Turner Hayes, Fallon Smythe as Harper Row, Tyler DiChiara as Cullen Row, Anna Lore as Stephanie Brown, Olivia Rose Keegan as Duela Dent, Navia Robinson as Carrie Kelley, and Misha Collins as Harvey Dent. The show will be produced by Warner Bros. Television and Berlanti Productions, while Chad Fiveash, James Stoteraux, and Natalie Abrams will write the script. Fiveash and Stoteraux will also executively produce the project with Greg Berlanti, Sarah Schechter, and David Madden of Berlanti Productions.
Are you excited for the debut of Gotham Knights? Let us know in the comments below!
5/12/2022 9:36 am

After a long waiting period, the showrunner of Batwoman, Caroline Dries, has officially confirmed that the show will not be returning for a fourth season. Batwoman has been on our television screens since late 2019, with Ruby Rose initially headlining the series before being replaced by Javicia Leslie. The show has lasted three seasons, with the most recent season coming to a conclusion later this year. Unfortunately, with the CW being put up for sale by ViacomCBS and WarnerMedia, also with the reported upheaval of DC-related media for the latter, the fate of Batwoman was sealed today with the announcement that the show has been canceled.
To add some extra salt to the wound, another popular Arrowverse series has been cancelled as well in the form of Legends of Tomorrow. After seven seasons of time-traveling antics, the Waverider crew will not be returning to our television screens for an eighth season. Premiering in 2016 and having 110 episodes, the show was well-known for broadening the horizons of the Arrowverse with its ambitious storylines and its rotating cast of series regulars such as Caity Lotz, Brandon Routh, Victor Garber, and Matt Ryan. Whether or not we'll see proper conclusions to these show's respective story arcs in future crossover events or tie-in comics remains to be seen.
Not only that, but rounding out this myriad of cancellations, Ava DuVernay's superhero drama, Naomi, will not be back for a second season on the CW as well. The series centering around a young woman trying to discover the secrets about herself and her newfound abilities reportedly had a great deal of issues to find an audience. However, it's important to note that the production team is talking with other outlets about continuing the series potentially on streaming or higher up the dial.
However, fans of the Arrowverse should have yet to fear as the pilot for Gotham Knights is still in the works! While it'll be set in another part of the expansive DC multiverse, the potential series will surely keep many fans content with a new Arrowverse adjacent series! It's disheartening that Batwoman, Legends of Tomorrow, and Naomi have come to an end, but we still have a variety of wonderful seasons rich with imaginative storylines and well-rounded characters to last us a lifetime!
What are your thoughts on the cancellation of Batwoman, Legends of Tomorrow, and Naomi? Do you think we'll ever see these characters again one day? Let us know in the comments and forum below!
5/12/2022 5:36 am

The gallery for the fifteenth episode of The Flash's eighth season is out, and we are once more focusing on a specific scene, clearly to not give anything away. Barry and the team are trying to find a way to rescue Iris from the looks of it, and there aren't too many options. We know from the trailer that Barry's idea is to go into the Still Force itself, but that could present challenges. Nora will also be making an appearance, and will be talking to Joe and Cecile. Considering too the synopsis for the final episode, we wonder if Barry's premature aging via the shockwave will come from his time in the Still Force. Check out the full gallery below:
Are you curious to see how things will go in the Still Force? Let us know your thoughts below and in our forum! Don't forget to follow us on Twitter for breaking news!