11/24/2021 9:48 am

The Flash and its crossover event has been blowing us away, and plenty more is to come! The third part to "Armageddon" is on the way and the trailer hints at some interesting things. Black Lightning is trying to keep up with Barry whereas everything in the world is slowly going haywire for the Flash. The inclusion of Despero and other allies like Sentinel and Batwoman will surely make for an enticing battle later on! Check out the trailer below!
How excited are you for the third part of this crossover event? What kinds of twists and turns can we potentially expect? Let us know in the comments and forum below!
11/23/2021 9:44 am
In regards to its currently running third season, The CW's Batwoman has had a great start with iconic villains like the Mad Hatter and Professor Pyg making their Arrowverse debuts. Now we have the infamous Poison Ivy coming, with a catch, it'll be Mary who'll be transforming into the second incarnation of this botanical baddie. How will Batwoman and her team be able to stop someone who's such a pivotal member of their brigade of allies? Check out the images down below in this fascinating new gallery for "Pick Your Poison".
Let us know your thoughts below and in our forum! Don't forget to follow us on Twitter for breaking news!
11/19/2021 7:56 pm
Buckle up Batwoman fans, because things are about to get a little more twisted. Earlier today, the CW gave us our first glimpse of Mary (Nicole Kang) fully decked out as Poison Ivy. And honestly, she looks spectacular. Between that bright red hair, the sleek, sharp cuts of the costume, and that terrifying look on her face, we're so excited to see this look in action on Wednesday's midseason finale.
During this week's episode, we got our first hint as to the upcoming transformation when Mary was infected by one of Pam Isley's vines. Speaking on the character journey Mary will go on as Ivy, executive producer Caroline Dries stated that:
The selfless and caring Mary Hamilton (Kang) we've come to know and love is taking a backseat to a pernicious and virulent version of herself. No longer content with her supporting role on the Bat Team, Poison Ivy Mary uses her newfound powers to stand up, stand out, and express her most deeply buried opinions and desires — regardless of who or what may be in her way. But more awaits Mary as her destiny delivers her at the root of her new persona, as she realizes her power bloomed to give life to another…Gotham's long lost and most infamous botanist.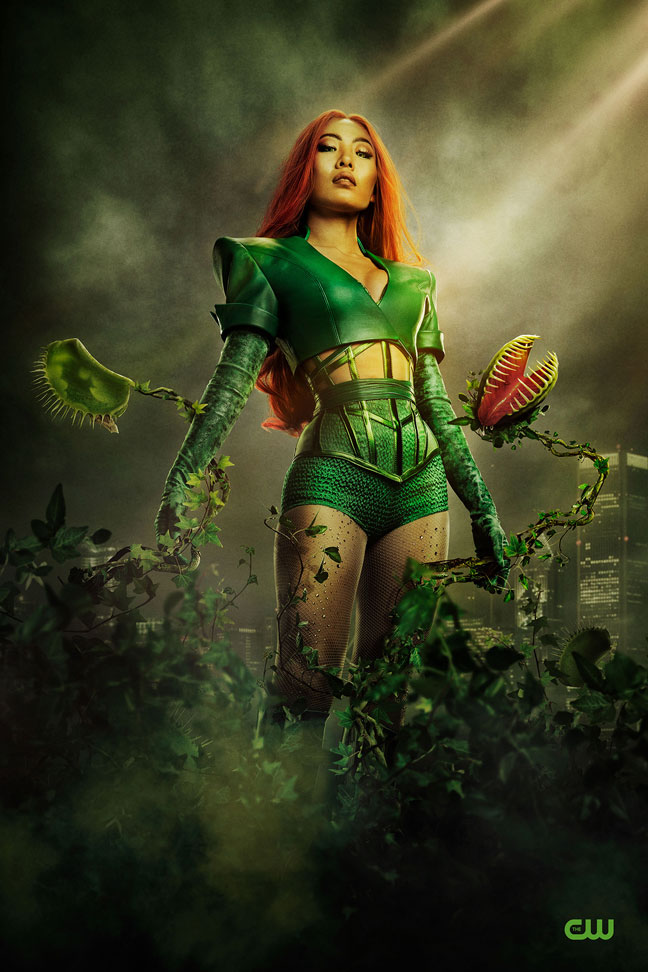 We are extremely excited to see Mary's full transformation in this week's Batwoman episode, and are sure we will love this new take on Poison Ivy's character! Let us know your thoughts below and in our forum! Don't forget to follow us on Twitter for breaking news!
11/19/2021 8:46 am

"Armageddon" has certainly been a thrill-ride to say the least, with the first part to this crossover event blowing us away with the exciting team-up between the Flash and the Atom. While we have two more chapters to "Armageddon", the synopsis for the fourth installment teases more interesting adventures to come for Team Flash and their battle against Despero. Barry Allen's old archnemesis, Eobard Thawne, returns along with the diabolical Damien Darhk. However, the Scarlet Speedster won't be alone in this fight as Batwoman, Sentinel, and Ryan Choi will be there to have his back against superhuman ne'er-do-wells.
BARRY FACES OFF WITH EOBARD THAWNE – Barry (Grant Gustin) is shocked when Eobard Thawne (guest star Tom Cavanagh) returns in the most unexpected way, and with a tie to a loved one. Damien Darhk (guest star Neal McDonough) offers advice to Barry but there is a catch. An epic battle begins with Reverse Flash pitted against The Flash, Team Flash, Batwoman (guest star Javicia Leslie), Sentinel (guest star Chyler Leigh) and Ryan Choi (guest star Osric Chau). Chad Lowe directed the episode written by Lauren Barnett (#804). Original airdate 12/7/2021.
Are you excited for the fourth part of this year's annual crossover event? What can we expect going forward and how will our heroes defeat Despero? Let us know in the comment section below!
11/18/2021 3:32 am

The third season to Batwoman is certainly off to a captivating start, and we're all eager to see where the rest of the season will take us as an anticipating audience. The trailer for the seventh episode of season three definitely teases some exciting surprises as we see there's certainly tension going on in Team Batwoman. Meanwhile, Alice will find herself a new companion while the dynamics in Ryan's biological family becomes tension-filled to say the least. Check out the trailer below to get an idea for what's in store!
Are you keen to see where the rest of season three will take us? What kinds of allies or adversaries would you like to see pop up? Feel free to let us know below in the comments and in our forum! Don't forget to follow us on Twitter for breaking news!
11/18/2021 3:25 am

The Legends haven't been having the best of luck lately, but that is about to change - Ava and Sara come across a plane factory, which has all the parts they need to rebuild the time machine, and that means it's time to roll up their sleeves and get to working. In the trailer for the next episode, we can see that the Legends trying to integrate into factory life might be a bit hard, but Astra is going to make sure the mission goes well. Check out the trailer below:
Have you been enjoying the new travel itenerary for the Legends? Let us know your thoughts below and in our forum! Don't forget to follow us on Twitter for breaking news!
11/17/2021 4:21 pm

Last night we saw the Armageddon crossover event kick off over on The Flash, and while there have been better crossover openings, this one stood out as a different way to start the event, catapulting us from a disaster zone in the Central City of the future to the present day in the blink of an eye. We got to see Ray Palmer once again, who has seemingly moved on from the world of superheroes and the spotlight of business to focus on his own inventions. But apart from playing catch-up, we also got a pretty heavy ultimatum: Despero claims that the Flash becomes a villain in the future, and has just seven days to prove to Despero that he is not the villain from this future. The question is, will he be able to prove it? Check out the trailer below:
Let us know your thoughts below and in our forum! Don't forget to follow us on Twitter for breaking news!