12/29/2022 4:54 pm

The first half of Titans' fourth season has been nonstop action and drama, as the show has a tendency for, and with the mid-season finale, we saw Rachel become White Raven. Comic fans, and even those who watched the cartoon will remember this iteration of the character, and there are plenty of theories as to what this might mean. We have yet to see the full extent of her transformation and regaining of her powers, but we have new images showing her new costume and look in full. We can imagine that a lot will be coming once the show returns to conclude its current season. Check out the costume below: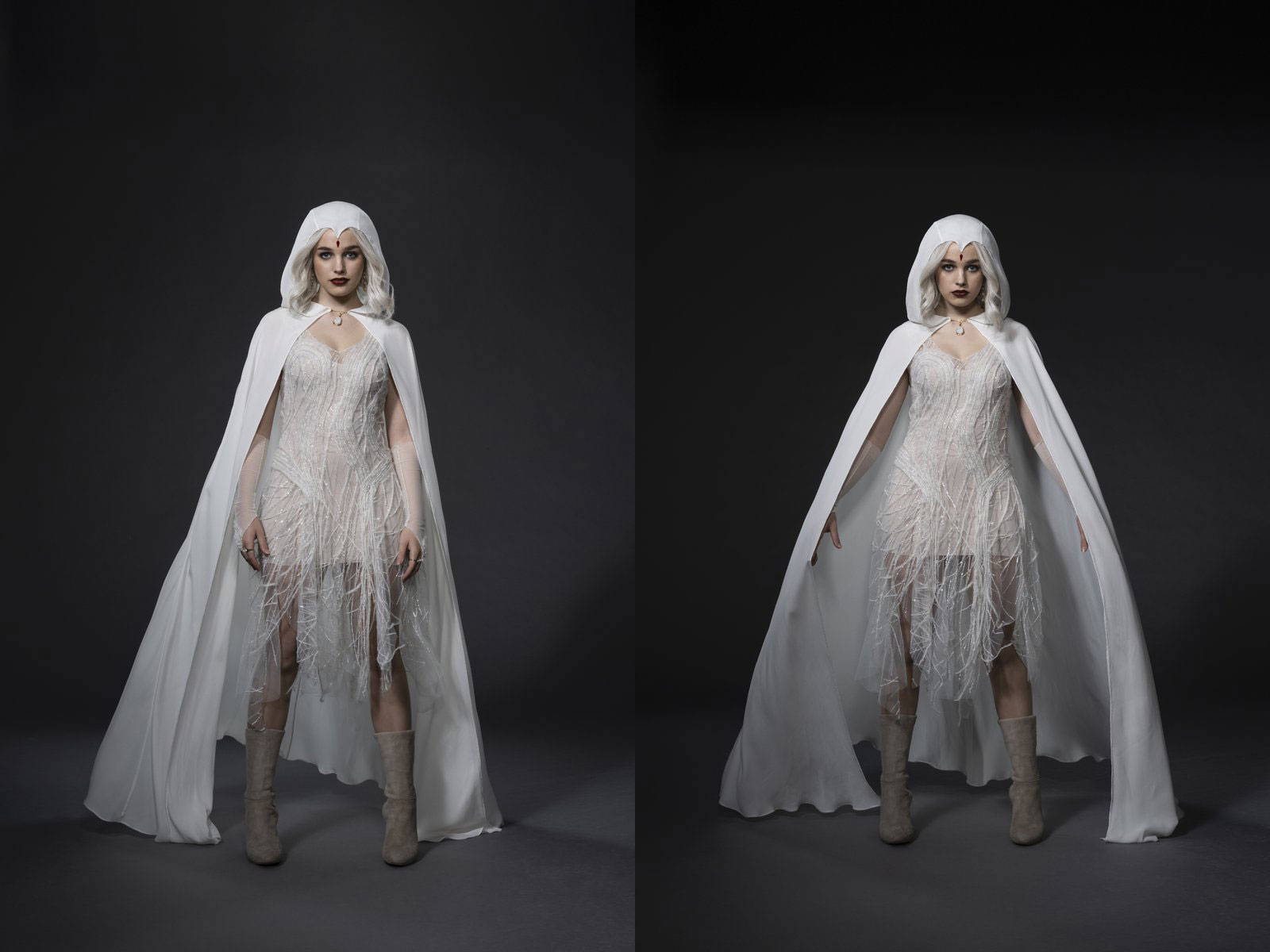 Let us know your thoughts below and in our forum! Don't forget to follow us on Twitter for breaking news!
12/15/2022 8:34 am

We've been saying goodbye to a lot of shows this past year, a lot of them ending prematurely, and at times, abruptly. Now, it's time for another show to begin its final season: The Flash. As one of the flagship Arrowverse characters, having Barry Allen making his first appearance on Arrow nearly a decade ago, we are now reaching the conclusion of that story. This final season promises a lot, with special appearances by other Arrowverse alumni, such as Javicia Leslie and Nicole Maines. But, this show had nine years to tell its story, and it's bowing out with a reminscient tone, while still promising the high stakes we've seen throughout all these years. To give you an idea of what we can expect, check out the trailer below:
A few days ago, we also got the confirmation that The Flash's ninth season will premiere on February 8th, also seen in the trailer. The synopsis for the season reads:
Season 9 picks up one week following Barry (Grant Gustin) and Team Flash's epic battle against the Reverse Flash (Tom Cavanagh) in the season 8 finale where they defeated him once and for all. Now, Barry and Iris (Candice Patton) are reconnecting and growing closer than ever before, but when a deadly group of Rogues descend on Central City led by a powerful new threat, The Flash and his team — Caitlin Snow (Danielle Panabaker), Cecile Horton (Danielle Nicolet), Allegra Garcia (Kayla Compton), Chester P. Runk (Brandon McKnight), and Mark Blaine (Jon Cor) — work together to defeat the new threat only to discover a deadly new adversary rising to challenge Barry's heroic legacy. In their greatest battle yet, Barry and Team Flash will be pushed to their limits in order to save Central City one last time.
We are definitely curious to see where this last season will take us, and we're hopeful that other Arrowverse characters will get to show up and get some additional closure for their characters and respective shows. Let us know your thoughts below and in our forum! Don't forget to follow us on Twitter for breaking news!
12/14/2022 9:11 am

In the midst of all the chaos and cancellations, it's good to see some pleasant news! The DC world may still be in a bit of a restructuring tumble, but two highly-anticipated shows are set to make their debut and return to the small screen in 2023. Fingers crossed that this is a sign for better news to come!
The CW announced premiere dates for the new season of fan-favorite "Superman and Lois", as well as new show "Gotham Knights". Even better, they appear to be airing back-to-back! "Superman and Lois" returns on Tuesday, March 14th at 8pm, with "Gotham Knights" making its official debut right after at 9pm.
Much has been teased about "Gotham Knights", but The CW gave us a sneak preview of what to expect from this first season:
Batman is dead, and a powder keg has ignited Gotham City without the Dark Knight to protect it. In the wake of Bruce Wayne's murder, his adopted son Turner Hayes (Oscar Morgan) is framed for killing the Caped Crusader, along with the children of some of Batman's enemies: Duela (Olivia Rose Keegan), an unpredictable fighter and skilled thief who was born in Arkham Asylum and abandoned by her father, Harper Row (Fallon Smythe), a streetwise and acerbic engineer who can fix anything, and her brother Cullen Row (Tyler DiChiara), a clever transgender teen who is tired of being polite and agreeable. With the charismatic and hard-charging District Attorney Harvey Dent (Misha Collins) and the GCPD hot on their trail, Turner will rely on allies including his best friend and formidable coder Stephanie Brown (Anna Lore), and unlikely Batman sidekick Carrie Kelley (Navia Robinson). But our Knights will soon learn there is a larger, more nefarious force at work within Gotham City. This team of mismatched fugitives must band together to become its next generation of saviors known as the Gotham Knights.
We also got our first two official images of the pilot:
"Superman and Lois" also got a nice teaser so fans know what to expect from this third season. Per The CW:
The third season of Superman & Lois opens weeks after Superman's blowout defeat of Ally Allston. Clark (Hoechlin) and Lois (Tulloch) now are working at the Smallville Gazette together and enjoying small town life. But the Kents' romantic bliss only shines a light on how isolating "the secret" can be, as Chrissy (Sofia Hasmik) struggles to balance a new love interest and her friendship with Lois. However, Lois' own work-life balance is put to the test when an undercover assignment reveals a deadly foe that promises to change the Kent family forever. Superman would move heaven and earth for his family, but with a villain this merciless, even that might not be enough. Meanwhile, the Kent boys find themselves being pulled in opposite directions as Jordan (Alex Garfin) discovers what a superhero-identity really means and Jonathan (Michael Bishop) searches for purpose beyond the football field. Amid all this upheaval, John Henry (Wolé Parks) is haunted by his doppelgänger's past, leading to dangerous consequences for him and Natalie (Tayler Buck). Lana Lang (Emmanuelle Chriqui) and Kyle (Erik Valdez) redefine their family post-separation, while Sarah (Inde Navarrette) explores what the future holds for her and Jordan now that she knows the truth about his powers. Having learned the hard way that no one else can be trusted to work with Superman, General Samuel Lane (Dylan Walsh) reclaims his post at the Department of Defense, only to face his own conflict in working with his grandson, Jordan.
Superman and Lois also had two images released, one showing Michael Bishop settling into his new role as Jonathan:
Are you excited for the new season of "Superman and Lois"? Will you be tuning in to see the shenanigans unfold on "Gotham Knights"? Let us know your thoughts below and in our forum! Don't forget to follow us on Twitter for breaking news!
12/13/2022 3:27 pm

A fan-favorite Supergirl character is set to return for the final season of The Flash!
Nicole Maines, better known as Nia Nal, will come back to play Dreamer in The Flash's final season. She will be the second Arrowverse alumni to return for The Flash's farewell season alongside Javicia Leslie as Ryan Wilder. Maines will suit back up as Dreamer in "a very special Season 9 episode" according to Eric Wallace, the current showrunner of The Flash.
Where I get to cross off one of my 'Arrowverse Bucket List' team-ups: Having two fantastic reporters — Iris West-Allen (played by Candice Patton) and Nia Nal — investigate their own very bizarre and frightening mystery.
Are you excited about the return of Dreamer? How do you think her team-up episode with Iris will go down? Let us know your thoughts below and in our forum! Don't forget to follow us on Twitter for breaking news!
12/5/2022 3:23 pm

The finale is right around the corner, and we have nine images previewing the episode. It'll also likely be our final Stargirl article, so let's dive in one last time. We've got quite a focus on family and togetherness for a good majority of these, from the Mahkents to the JSA and the All Stars. And of course, we have some teasing images of what will likely be the big showdown by the scrapyard, bringing this whole show full-circle and to a close, with what we're sure will be a satisfying ending, though we'll hold out hope for a revival or a continuation some day somehow. One thing we can look forward to is that Brec Bassinger will be appearing at some point of Titans' fourth season, reprising her role as Stargirl. Check out the finale gallery below:
Let us know your thoughts below and in our forum! Don't forget to follow us on Twitter for breaking news!
12/1/2022 4:19 am

One more episode remains. And quite a lot awaits us! We've got quite a few twist reveals from last night that we'd urge you to watch the episode before continuing, but it's all been leading to this, and the trailer for the final episode is chilling. The bad guys have the upper hand, and the JSA will really have to come together with all of their allies to make sure they win. We also have the ominous tagline hinting that someone might not make it out of this showdown. But we're hoping it's a red herring. Despite the show's untimely end, a finite end was planned, so at least we won't be left with a cliffhanger. Check out the trailer below:
Let us know your thoughts below and in our forum! Don't forget to follow us on Twitter for breaking news!
11/17/2022 12:45 pm

Unfortunately, Stargirl's end is near, and with it, we have a plethora of new stuff for you, including the gallery for the penultimate episode, and the synopsis for the finale. It's bittersweet to get to this point, but with the changes to WB and thus DC, there were always going to be changes. So let's dive in. The gallery for the 12th episode focuses on the heroes, with the JSA meeting and having various discussions, but we're in the dark for what the rest of the episode will entail, and we imagine it's for a good reason. Check out the gallery below:
We also have the finale's synopsis, which, true to form, leaves a lot to the imagination! We know this is because we can expect quite a packed ep. Check it out:
THE FINAL SHOWDOWN — Courtney (Brec Bassinger) and the JSA find themselves in the fight of their lives against their biggest threat yet. Luke Wilson, Amy Smart, Yvette Monreal, Anjelika Washington, Cameron Gellman, Trae Romano, Meg DeLacy, Hunter Sansone, Alkoya Brunson and Joel McHale also star. Walter Carlos Garcia directed the episode written by Geoff Johns (#313). Original airdate 12/7/2022.
What are your thoughts on Stargirl ending? Let us know your thoughts below and in our forum! Don't forget to follow us on Twitter for breaking news!