8/31/2021 8:04 am

October 16 is right around the corner, and that means that the new DC Fandome will be coming. In 46 days, we'll get first glimpses of what's to come in the DC Universe, which means there's a lot to cover. Last year's Fandome was an apparent success, so much so that this year promises to have more of what worked so well for the groundbreaking and innovative digital event. There are some changes from last year's formula, wherein this time around, it'll be a singular streamed event that you can watch on multiple platforms (Twitch, YouTube, Facebook and Twitter), rather than various simultaneous streams.
Ann Sarnoff, Chair and Chief Executive Officer, WarnerMedia Studios and Networks Group, said:
DC FanDome 2020 was a first-of-its kind global virtual fan experience and showcased every aspect of the DC Universe with unprecedented scale and access. This year, we're taking everything that people loved about DC FanDome and supercharging it to super-serve fans with even more exclusive first-looks, breaking news, in-depth interviews and insight from the stars and creative teams of their favorite DC content.
So what exactly will we be seeing in this year's event? We can expect lots of previews trailers, conversations, and more centering around the upcoming movies and seasons of your favorite TV shows. This includes:
- A look at new seasons of Batwoman, The Flash, Superman & Lois; [...] a farewell tribute to Supergirl as it approaches its epic conclusion after six seasons; a celebration of 100 episodes of DC's Legends of Tomorrow; a first look at forthcoming new drama Naomi; and a sneak peek at an upcoming episode of DC's Stargirl.
- HBO Max will unveil an exclusive look at the upcoming series Peacemaker [...]. The streamer is also debuting more surprises and sneak peeks from new series as well as returning favorites such as Titans and Doom Patrol.
- Warner Bros. Animation will feature a look at the upcoming limited series Aquaman: King of Atlantis; provide a sneak peek at season three of the adult animated comedy series Harley Quinn and share what's in store for #HarIvy; deliver a very early look at the next animated chapter of the Dark Knight in the all-new upcoming series Batman: Caped Crusader; and give fans a preview of Young Justice: Phantoms (warning: there will be spoilers!).
All in all, it seems we'll be getting a little bit of everything! We'll have more information as the event approaches. Meanwhile, we have a special poster for Peacemaker, the HBO Max show slated to premiere on January 16th, 2022 with John Cena, based on James Gunn's iteration of the character from the recently released Suicide Squad.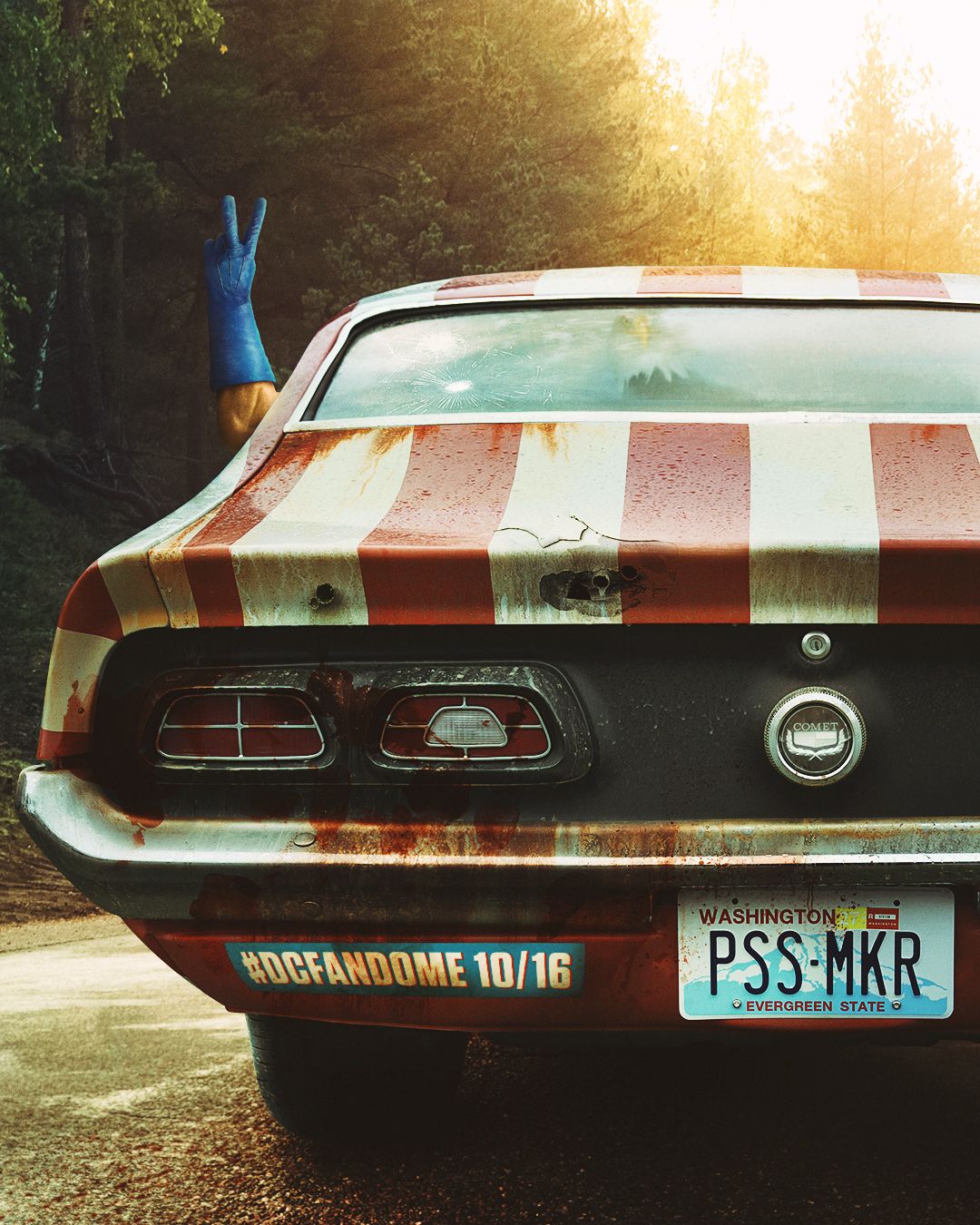 What are you most excited about? Let us know your thoughts below and in our forum! Don't forget to follow us on Twitter for breaking news!
8/30/2021 9:51 pm

One of the most iconic Batman villains is returning to the small screen, The CW has officially announced that Bridget Regan will be joining the cast of the third season as Pamela Isley. For those unfamiliar with that name, Isley is also known as Poison Ivy, the well-known adversary in Batman's rogues gallery who is immune to toxins and has the ability to control plants. Isley is described as:
The former botany student of Gotham University, who was a passionate, brilliant scientist with a mind for changing the world for the better. Pamela's plans shifted when she was experimented on by a colleague, injected with various plant toxins which turned her into the infamous Batman villain: Poison Ivy. With a formidable power coursing through her veins, Pamela used her powers to do what she thought was right, even if Batman and those closest to her disagreed with her dangerous methods. Now effectively wiped off the board for years, Batwoman and the Bat Team must prepare themselves for Poison Ivy to return with a vengeance.
Regan has recently appeared in the limited drama series Paradise Lost, along with prior appearances in White Collar, Jane the Virgin, and Marvel's Agent Carter. This will be the character's third appearance in live-action with Uma Thurman portraying her in Batman and Robin, while Clare Foley, Maggie Geha, and Peyton List played three versions of Isley in Fox's Gotham.
Are you excited for the Arrowverse debut of Poison Ivy? What kinds of trouble do you think she'll cause for our main heroes? Let us know in the comments below and in our forum! Don't forget to follow us on Twitter for breaking news!
8/29/2021 9:51 pm
This season certainly has been a whirlwind of emotions and occurences, but the crazy turns aren't over yet. For the season finale, we'll have the Legends taking a final stand against the remaining aliens, while also having Sara and Ava's wedding. And from what Nate said, it might be their last day on Earth. We're fully confident that the Legends will be able to prevail, but there's still the matter of dealing with an incoming invasion. Check out the trailer below:
Are you looking forward to the wedding? Let us know your thoughts below and in our forum! Don't forget to follow us on Twitter for breaking news!
8/27/2021 3:13 pm

The Crock family will be quite prominent for Stargirl's upcoming season. For the third season, Neil Hopkins and Joy Osmanski, who play Sportsmaster and Tigress respectively, will be regulars, meaning we'll be seeing a lot more of them in Blue Valley. They'll be making their return this season in the next episode as the surviving members of the ISA. It stands to see how they'll act moving forward, especially since they seem to be currently playing buddies with Pat from the last trailer.
Are you excited to see more of the couple? Let us know your thoughts below and in our forum! Don't forget to follow us on Twitter for breaking news!
8/26/2021 8:06 pm
Right on the heels of yesterday's huge annoucement of the 5-part crossover-style event happening at the outset of The Flash's 8th season, we have one more casting news, and it's Tony Curran as Despero. Curran, who you might know from his roles in Your Honor, Ray Donovan, and Doctor Who, has been cast in the role that some might recognize from the comics. Despero is described as:
A powerful and intelligent alien possessing incredible telepathic powers who left his homeworld—Kalanor—under mysterious circumstances. Now he's facing a deadly mission on Earth, one whose outcome will decide the fate of humankind and put him on a collision course with Team Flash.
It stands to see whether Despero will show up for the Armageddon event or after. Let us know your thoughts below and in our forum! Don't forget to follow us on Twitter for breaking news!
8/25/2021 4:23 pm

For the next Stargirl episode, Lawrence Crock and Paula Brooks are back! Artemis' parents have broken out of prison, and they're looking to be buddies with Pat, in a bizarre twist of events. From the trailer, it looks like we'll have some fun with the two villains crashing Pat and Barbara's house, but Courtney is confident that they've got things under control, even when facing Artemis' apple crushing skills. Check out the full trailer below:
Do you think the villains will be here to stay? Let us know your thoughts below and in our forum! Don't forget to follow us on Twitter for breaking news!
8/25/2021 11:25 am

We have some exciting news today coming to us from the CW, who have sent the first details on what we can expect for The Flash's 8th season. If you recall, when the show returns in the fall, they were going to do so with a special event: a 5-episode crossover-type event that could potentially bring in characters from other shows. It's meant to be a new type of crossover, one that would be smaller-scale than Crisis, but still just as action-packed. Today the event has been revealed as Armageddon, and the logline gives us an idea of what to expect:
A powerful alien threat arrives on Earth under mysterious circumstances and Barry (Grant Gustin), Iris (Candice Patton) and the rest of Team Flash are pushed to their limits in a desperate battle to save the world. But with time running out, and the fate of humanity at stake, Flash and his companions will also need to enlist the help of some old friends if the forces of good are to prevail.
So who exactly will be the old friends joining Team Flash for these episodes? It's quite the stellar cast of: Javicia Leslie as Batwoman, Brandon Routh as The Atom, Cress Williams as Black Lightning, Chyler Leigh as Sentinel, Kat McNamara as Mia Queen and Osric Chau as Ryan Choi. It's a good and solid cast of heroes to help save the world, but they won't be the only ones. Tom Cavanagh and Neal McDonough will also be back as Eobard Thawne/Reverse Flash and Damien Darhk, respectively.
Eric Wallace, the Executive Producer of The Flash, also released a statement regarding what we can look forward to:
Simply put, these are going to be some of the most emotional FLASH episodes ever. Plus, there are some truly epic moments and huge surprises that await our fans. And we're doing them on a scale that's bigger and bolder than our traditional FLASH episodes. So yes, ARMAGEDDON is a lot more than just another graphic novel storyline. It's going to be a true event for FLASH and ARROWVERSE fans, old and new. Honestly, I can't wait for audiences to see what we've got planned.
Are you excited for Armageddon? Which characters are you excited for the most? What do you think might happen? Let us know your thoughts below and in our forum! Don't forget to follow us on Twitter for breaking news!